It's Tuesday…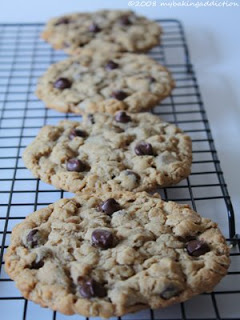 This week's Tuesday's with Dorie recipe is for Chunky Peanut Butter and Oatmeal Chocolate Chipsters chosen by, Stefany, of the blog,
Proceed with Caution
. I have not made a lot of cookies in recent months, but was happy to try this recipe because I have a thing for peanut butter! After reading the P&Q on the TWD site, I found that quite a few people were having issues with the cookies being flat. I despise flat cookies and decided to tweak the recipe in an attempt to keep my cookies from deflating into bingo chips. I replaced half the butter with butter flavored Crisco and chilled the dough for quite some time before putting them into the oven.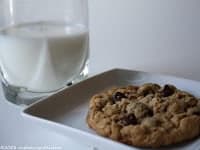 The dough was really easy to prepare and tasted delicious…(I love me some cookie dough)! I measured each cookie to weigh 2.2 ounces (yeah, I am anal like that) on my digital scale. I then rolled them into large balls and gently flattened them with my palm. Using the 2.2 ounce weight, I got exactly 24 cookies from this recipe. They baked perfectly in 14 minutes and held their shape really well. I used chunky peanut butter and thought they had a nice balance of peanut butter, chocolate and oatmeal flavors. I would definitely make these again! If you want to check out other versions of this recipe head over to the Tuesdays with Dorie site and check out Stefany's blog for the recipe! Have a wonderful Tuesday!
Enjoy!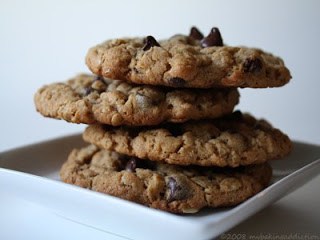 This post may contain affiliate links. We are a participant in the Amazon Services LLC Associates Program, an affiliate advertising program designed to provide a means for us to earn fees by linking to Amazon.com and affiliated sites.