Every once in a while I will come across a recipe that immediately gets placed on my must bake list. These cookies are one of those recipes. Yeah, most of us foodies, have cook/bake lists that we derive inspiration from, these lists come in exceptionally handy when I get "baker's block."
While doing my daily blog browsing, I came across a recipe developed by Jennie Perillo of the blog, In Jennie's Kitchen. The cookie was posted on the fab blog, The Merry Gourmet and drew me in due to its puffy appearance; we like our cookies to be thick and chewy and Jennie's recipe looked just perfect. Her recipe is not only quick and easy, but the results are truly delectable.
Jennie recommends an overnight "marinating" time to allow the flavors infuse and ensure ultimate cookie perfection. These cookies have quickly earned a place on my Chocolate Chip Cookie Top 5…in fact, I have another batch "marinating" as I type! Many thanks to Jennie for allowing me to share this great recipe with my readers!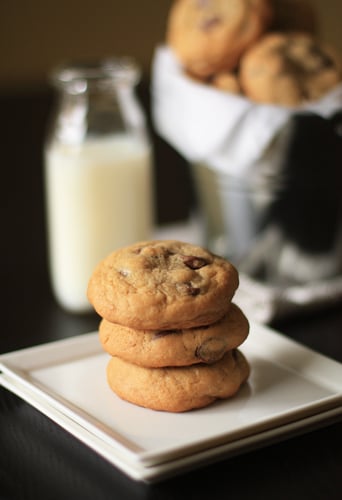 Here is some info from Jennie's post about the cookies; however, be sure to head over to her blog to read the informative postin its entirety! While you are there, definitely browse her fabulous original recipes, I guarantee you'll be drooling in a matter of minutes!
Perhaps one of my favorite things about this cookie is they're stress free. Rather than planning on time to make the dough and bake it right away, it's done in stages. The dough takes all of 5 minutes to make—10 minutes if you decide to nix your stand mixer and do it all with a wooden spoon. Then just sit back and let the dough transform in the fridge, and bake as you need them.
You can even form the balls and freeze them on a lined cookie sheet. Once set, store them in an air-tight plastic bag and you'll be ready for surprise company or a last-minute treat at a moment's notice.
Feeling Social?
Follow me on twitter.
Become a Facebook Fan.
Subscribe to my posts!

Jennie's Chocolate Chip Cookies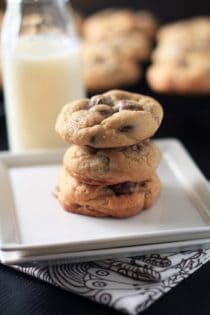 Ingredients:
4 cups flour (18 ounces)
1 teaspoon baking soda
1 teaspoon salt
2 sticks butter, softened (8 ounces)
2 cups sugar (15 ounces)
2 tablespoons molasses
3 large eggs, at room temperature
1 1/2 teaspoons pure vanilla extract
12 ounces bittersweet chocolate discs
Directions:
1. In a large bowl whisk together the flour, baking soda and salt.
2. Beat butter, sugar and molasses until light and fluffy. Add the eggs and vanilla extract.
3. Beat until well mixed. Add the flour mixture and mix until just combined. Stir in the chocolate discs.
4. Let sit in refrigerator overnight before baking, and may be stored this way for up to two days. Yes, I realize this is the very hard part.
5. When ready to bake, preheat oven to 350ºF. Line baking sheets with silicon mats or parchment paper.
6. Gently form dough into 1 1/2 to 2-inch balls and place 2 to 3 inches apart on prepared baking sheet. Bake for 15 minutes on middle rack.
7. Remove from oven and let cool on pan for 2 more minutes. Transfer cookies to a rack to cool completely if you have any will power left.
Follow Jamie on Instagram. We love to see what you're baking from MBA! Be sure to tag @jamiemba and use the hashtag #mbarecipes!
[pinit]