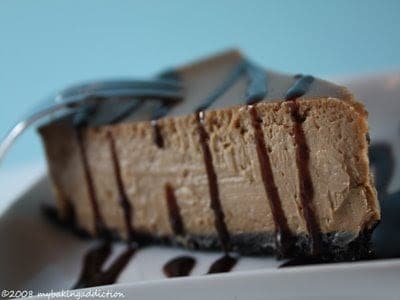 Although I do not have many photos of this recipe and I am certainly less than pleased with the ones I have, I decided to suck it up and share it with you because it is truly delicious! Last week my local grocery store had a sale on Philadelphia Cream Cheese, so I decided to stock up and ended up leaving with 10 packages. The overflow of cream cheese is what prompted this chocolaty cheesecake. I am not a huge fan of cheesecake in the chocolate variety, but the boyfriend is…he is also a fan of Kahlua, so I thought this would be a definite palette pleaser. The recipe calls for chocolate cookie crumbs to be used as the base of the crust. I could not find plain chocolate cookies, so I used Oreos and scraped out the cream filling. Of course I wanted to eat all that white, fluffy goodness, but I was a good girl and chucked it in the trash. I did bake this in a bain-marie (water bath) to prevent cracks. I also left it in the oven to cool for a few hours before placing into the fridge overnight. This method worked like a charm, however, I have no pictures of my pretty crack-free cake as a whole because this was the one lonely piece to make it home. This cheesecake received rave reviews from the taste testers and would be a perfect end to any holiday meal.
Kahlua Cheesecake Adapted from allrecipes

Ingredients
1 cup chocolate cookie crumbs
1/4 cup butter, softened
2 tablespoons white sugar
1/4 teaspoon ground cinnamon
3 (8 ounce) packages cream cheese, softened
1 cup white sugar
3 eggs
8 (1 ounce) squares semisweet chocolate
2 tablespoons whipping cream
1 cup sour cream
1/4 teaspoon salt
2 teaspoons instant coffee granules dissolved in 1/4 cup hot water
1/4 cup coffee flavored liqueur
2 teaspoons vanilla extract
Directions
1. Preheat oven to 350 degrees F (175 degrees C).
2. Butter one 9 or 10 inch springform pan.
3. Combine the chocolate wafer crumbs, softened butter, 2 tablespoons white sugar, and the cinnamon. Mix well and press mixture into the buttered springform pan, set aside.
4. In a medium sized bowl beat the softened cream cheese until smooth. Gradually add 1 cup white sugar mixing until well blended. Add eggs, one at a time. Beat at low speed until very smooth.
5. Melt the 8 ounces semisweet chocolate with 2 tablespoons whipping cream in a pan or bowl set over boiling water, stir until smooth.
6. Add chocolate mixture to cream cheese mixture and blend well. Stir in sour cream, salt, coffee, 1/4 cup coffee liqueur, and vanilla; beat until smooth.
7. Pour mixture into prepared pan.
8. Bake in the center of oven at 350 degrees F (175 degrees C) for 45 minutes. Center will be soft but will firm up when chilled. Do not over bake. Leave cake in oven with the heat turned off and the door ajar for 45 minutes. Remove cake from oven and chill for 12 hours.