Key Lime Marshmallow Milkshakes are loaded with vanilla ice cream, key lime juice and Campfire® Key Lime Mallow Bursts.
We were graced with amazing weather this past weekend. Temperatures in the mid 70s, sunshine, and a constant breeze that got us in the mood to get outside. We even thought about hitting up the local ice cream shop that just opened for the season.
Eric is a milkshake lover. Sidebar – am I only one that begins to sing, "my milkshake brings all the boys…" every single time the word milkshake is uttered? Please tell me I'm not. Anyway, he loves milkshakes, specifically Cookies and Cream milkshakes. He's obsessed, and has been known to drive over 20 minutes just to pick one up from Dairy Queen. And while we were in Florida last summer, we had to make our way to the Ben and Jerry's in St. Armand's Circle every single night. He claims they have "the best milkshakes on the planet", and I'm pretty sure it makes the top 5 in his Reasons We Should Move to Florida list.
While I love cookies n' cream as much as the next girl, after an epic winter filled with snow storm after snow storm, I am craving all things citrus. Lemons, limes, oranges and grapefruit – gimme gimme gimme! So instead of making our usual concoction of chocolate ice cream and more cookies than should be lawfully allowed, I decided to fulfill Eric's milkshake fix with a something a little more Spring-like – Key Lime Marshmallow Milkshakes.
Because after all, it totally snowed yesterday. I'm not even kidding. And this cabin-fevered girl has been pushed to drink. Key Lime Marshmallow Milkshakes, that is.
Loaded with vanilla ice cream, key lime juice, and Campfire® Key Lime Mallow Bursts, it's a sight to behold. But then you go and top it with whipped cream and graham cracker crumbs – it's like flowers and sunshine and the magic of spring in a big ol' glass.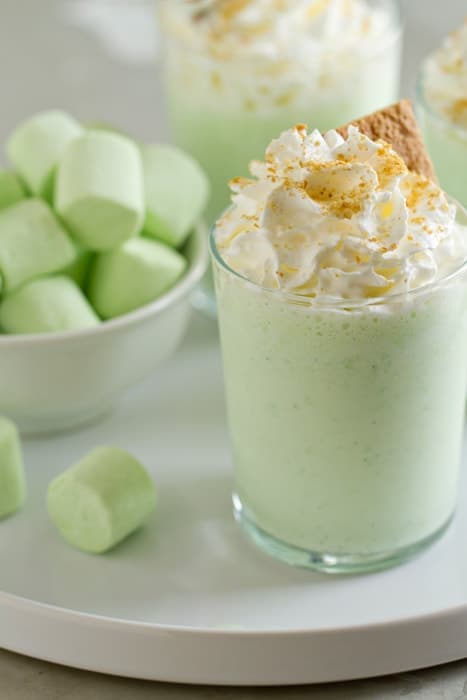 I'm completely obsessed with Campfire® Mallow Bursts – they're loaded with fruit flavor and the perfect snackable sweet treat. Because I'm obsessed, I'm also really excited to tell you that I'm partnering with Emily from Jelly Toast and Campfire® over the next year. You'll see more recipes from us, and hopefully even more exciting stuff as the year goes on. Be sure to check out Emily's adorable Marshmallow Easter Eggs!
To join in all of the marshmallow fun, follow along with our Marshmallow Madness Pinterest board!
For more information about Campfire® Marshmallows and for details on how you can enter your own recipe to win up to $500, visit their Facebook page.
So, who's in for a Key Lime Marshmallow Milkshake? Because I'm about to make another one.
Key Lime Milkshakes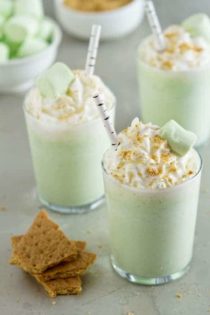 Ingredients:
4 ounces (1/2 bag) Campfire® Key Lime Mallow Bursts
2 cups quality vanilla ice cream
1/2 cup milk
Optional Garnishes
whipped cream
graham cracker crumbs
Directions:
1. Place Campfire® Key Lime Mallow Bursts in a microwave safe bowl. Microwave on medium power in 30 second increments until marshmallows are melted and smooth when stirred. Allow melted marshmallows to cool for about 5 minutes.
2. After melted marshmallows have cooled, place ice cream, milk and cooled, melted marshmallows into and blender and blend on medium-high speed until thoroughly combined. If desired, top with whipped cream, graham cracker crumbs and Campfire® Key Lime Mallow Bursts. Serve immediately.
All images and text ©
Follow Jamie on Instagram. We love to see what you're baking from MBA! Be sure to tag @jamiemba and use the hashtag #mbarecipes!