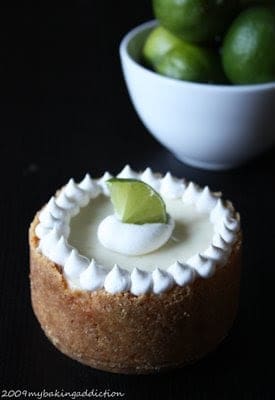 With summer right around the corner I find myself compelled to make citrus-y desserts and cannot seem to walk out of the grocery store without a bag of key limes. Wednesday night I had some free time, so I figured I would try making a few mini key lime pies…one for the boyfriend, one for the boss and one for the neighbor! I used a highly rated recipe from allrecipes, but have adapted it by making my own graham cracker crust. The filling was super delicious and had the texture of an uber creamy cheesecake. This recipe could not be easier and the results may just amaze you! You can make this recipe even more simple by using a ready made pie crust. One recipe worth of filling could have filled (4) 4 inch springform pans, but I filled my pans all the way and had a tad bit of batter left over after pouring it into 3 pans. This recipe may force me to buy another 4 inch pan! !
I got a little sick of squeezing the limes, plus I need some for another recipe, so I subbed 1/4 cup of fresh squeezed lime juice with Nellie and Joe's Key Lime Juice. This addition added a little more zing to the batter and brought it up to the perfect pucker level! This is a recipe I can see myself making over and over again throughout the summer months. I hope you make it and enjoy it as much we did. Thanks for stopping by and have a fun-filled weekend!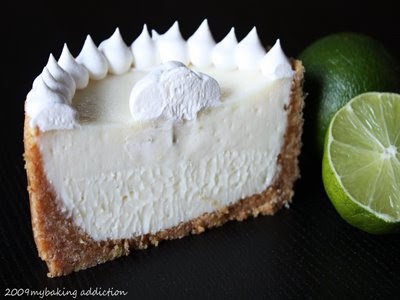 Key Lime Pie Adapted from allrecipes
Ingredients
1 (9 inch) prepared graham cracker crust (or make your own)
3 cups sweetened condensed milk
1/2 cup sour cream
1/2 cup fresh squeezed key lime juice
1/4 cup Nellie and Joe's Key Lime Juice
1 tablespoon grated lime zest

Method
1. Preheat oven to 350 degrees F (175 degrees C).
2. In a medium bowl, combine condensed milk, sour cream, lime juice, and lime rind. Mix well and pour into graham cracker crust.
3. Bake in preheated oven for 5 to 8 minutes, until tiny pinhole bubbles burst on the surface of pie. DO NOT BROWN! (The mini pies took about 10 minutes to form the bubbles) Chill pie thoroughly before serving. Garnish with lime slices and whipped cream if desired.