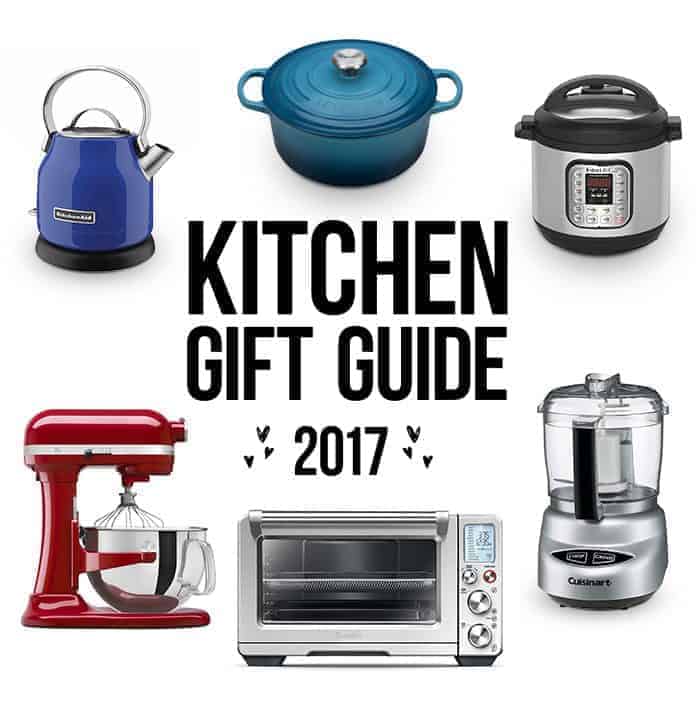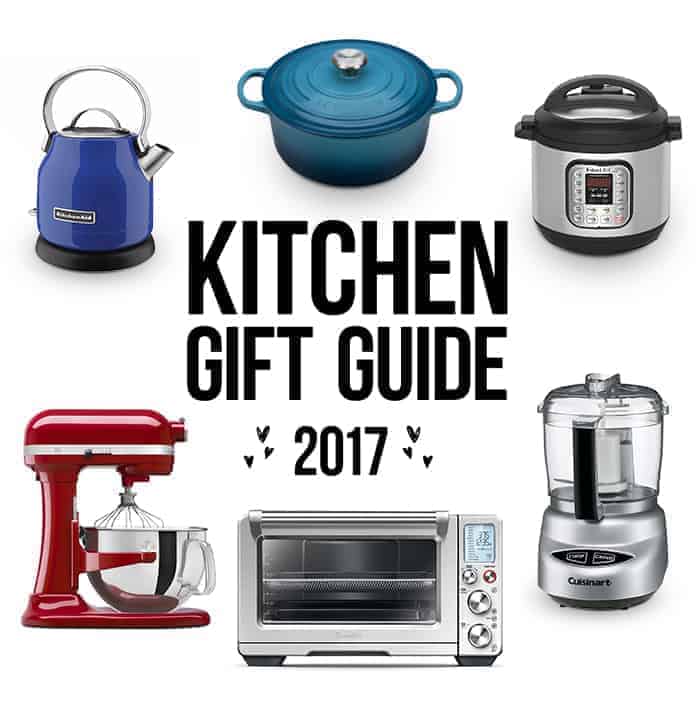 It's the most wonderful time of the year! Today, I'm sharing my favorite gifts for anyone that loves to be in the kitchen.
So, I've figured out that there are two types of holiday shoppers. There are people like me, that haven't really started shopping, then there are the other people – that have shopped, wrapped, AND placed the gifts under the tree by now.
I'll never be the second person. I'll be paying for expedited shipping on the 22nd and wrapping gifts at 2 AM on Christmas Eve forever and ever.
I've teamed up with my friends at eBay and their Fill Your Cart with Color campaign to share some of my absolute favorite gifts for anyone that loves to cook and bake.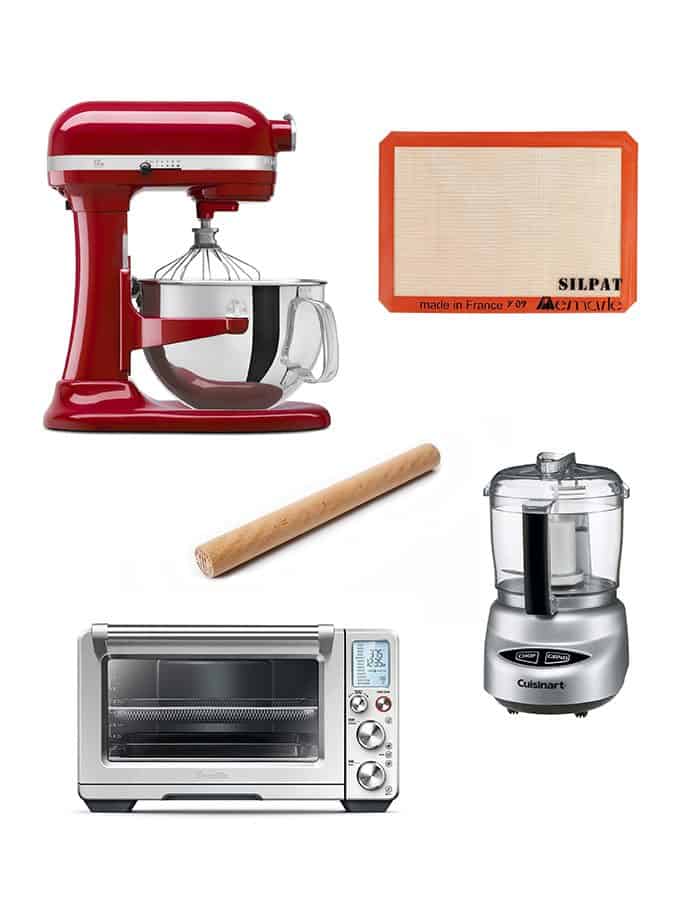 I've included everything that I love and use on a regular basis and most importantly, I've included items at different price points, so you'll be able to find something for everyone on your shopping list.
The great thing about eBay is that you can find just about everything you're looking for. That's the power of the world's largest marketplace: options!
Whether it's new, nearly new or totally you, eBay makes it possible to shop like an individual and find the items that set you apart from the crowd.
You're not like anyone else, so why shop like everyone else? eBay invites you to fill your cart with color and find all of the things that make you, you. And yours, yours.
1. If you love to bake, more than likely you either own, or would love to own a stand mixer.
I have and love a KitchenAid Pro 600.
It's my workhorse and BFF in the kitchen and I don't think I could live without it. Okay, that might be a tad dramatic, but you get the idea.
2. If you don't have a Silpat, you need one.
Silpat liners basically allow you to turn any baking pan into a non-stick surface.
They're perfect for cookies and ooey-gooey treats like candies. I love the fact that a Silpat baking mat is completely reusable. Just wipe it clean and you're good to go! They've even got them for round cake pans!
3. I have a large food processor that I've had for years, but I don't use it very often, instead, I opt for my Cuisinart Mini Prep Plus food processor.
It's much smaller than a traditional food processor, so it's perfect for small kitchens, or compact storage spaces.
You can quickly chop onions, vegetables, cheese, nuts and just about anything else with this little guy. And all of parts are dishwasher safe, which is always a bonus in my book!
4. I've owned a Breville Smart Oven for over 5 years and I can honestly tell you, we use it every day, multiple times a day.
Honestly, we use the toaster oven more than we use our amazing KitchenAid oven.
When I say this countertop oven makes the best toast ever, I am not even kidding. We're a toast loving family and I'm convinced that this appliance makes perfect toast – every single time.
Although I'd totally buy it based upon its toasting capabilities alone, The Breville Smart Oven functions as an actual oven.
That means it's perfect for baking up small batches of cookies, warming leftovers and even roasting items like chicken, fresh vegetables and so much more.
5. I'm a self-professed rolling pin hoarder. There are all kinds of rolling pins out there, but my absolute favorite is my straight rolling pin.
I think it offers the most consistency as you roll, because the pressure is the same, no matter where you roll it. Plus, they're usually wide enough to only need to do one pass at a time in each direction until you have a flat, silky smooth pie dough, or perfectly rolled cookie dough.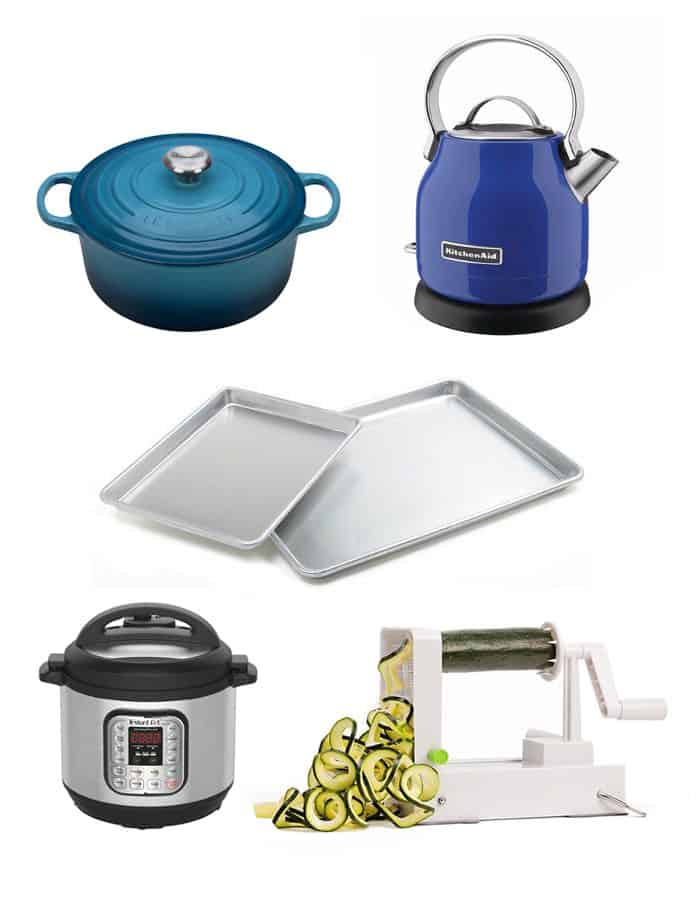 6. Great for stovetop and oven use, a Le Creuset Dutch Oven braises meats, bakes bread and desserts, and simmers some of the most amazing stews and soups you'll ever taste.
Beautiful on the outside, the enamel interior resists chipping and cracking and is oven safe for up to 500 degrees. Seriously, if you're looking to impress someone with a piece of cookware that will last them years, this is THE gift!
7. My bestie Amber raved about her electric kettle for months before I gave in and actually purchased one.
They're ubiquitous over in England, and I totally get it now. Although I love tea in the fall and winter months, I just didn't think this appliance would do more than make a perfect cup of tea. Boy, was I wrong.
Electric kettles are great for so many things like bringing water to a boil quickly for pasta, for cleaning stuff (I start with extra-hot water for mopping), making oatmeal and ramen, and even heating water to warm baby bottles.
I honestly love this thing and I'm sure any tea drinker on your list would too! eBay also has a ton of great appliances and gadgets for coffee lovers too!
8. If you know of someone just starting out in the kitchen, a jelly roll pan is the perfect bakeware gift.
From baking cookies to roasting vegetables, a couple of good quality jelly roll pans are a must-have!
9. Oh how I love my Instant Pot. Let me count the ways; easy dinners a couple nights a week.
Desserts, two or three nights a month. Mashed potatoes in minutes. Really!
Hard boiled eggs in just eight minutes. I promise you, the Instant Pot craze is not a bunch of hype.
This electric pressure cooker is one of my favorite and most used kitchen appliances. I think any cook on your list will love it as much as I do!
10. Have you ever had zoodles? I'm quite obsessed with them. So much so that an Inspiralizer is always at the top of my gift list.
Whether you're shopping for a newlywed, or a kiddo's first apartment, an Inspiralizer is definitely a great gift idea. It doesn't take up a lot of room, but it's a definite game changer in the dinner department.
I love using it for sweet potato noodles and even apple noodles. Mixed together with some sauteed pork and sage, they are fantastic!
This is one little appliance that has brought out my dinner creativity, and I think it would for anyone that you buy it for.
So there you have it. My holiday (and every day) favorites for all the foodies in your life. Even if all these don't make it under the Christmas tree, save this list for gift giving throughout the year. You'll win birthdays forever!