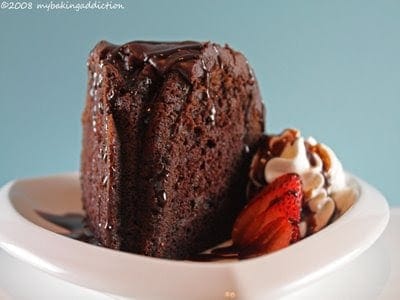 Kugel…what? That is exactly what I said to myself when I spotted this recipe on the TwD site. This was yet another one of Dorie's desserts that I have never heard of…do I live under a rock or am I lacking the in the area of cultural exploration? Luckily I have google at my at my fingertips…and according to wikipedia:

It has the general shape of a

a donut

.

A common

Kugelhopf

consists of a soft

yeast

dough

and contains

raisins

,

almonds

and

Kirschwasser

cherry brandy. Some also contain candied fruits and nuts.

It is baked in a special circular pan, originally made of enamelled pottery, now also used for making b

undt

cakes

. It is usually eaten for breakfast or a

coffee break

.
After I took a minute to enlighten myself on this cake/bread, I felt a little more confident about preparing it, but honestly, I was not feeling this one. I decided to sit this week's recipe out, but still wanted to make something in a bundt pan. While pondering the notion of bundt cakes, I remembered a chocolate cake recipe that I had added to my allrecipes recipe box. This recipe was for an easy chocolate cake that used a box mix, but was doctored up with other ingredients. I was very very happy with this recipe even though it was not from scratch! The cake turned out very well and remained super moist for days…the glaze made it extra delicious! It does not get any easier than this!
Now if you want to check out the actual recipe, head on over to Landa's blog, The All Purpose Girl. You can also go to the Tuesdays with Dorie site to visit the blogroll!
Recipes:

Too Much Chocolate Cake
Satiny Chocolate Glaze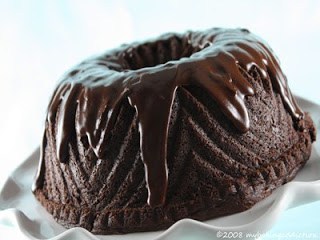 Up next…Pumpkin Bread and Oh Nuts!