Cheesecake. I love cheesecake. It is truly one of those desserts that I simply cannot resist. I'm guessing it's the combination of the crisp, slightly salty graham crust paired with the sweet creamy texture of the cream cheese filling. Regardless of the reason, cheesecake equals bliss in my book.
Although we will pretty much nosh on any cheesecake that we come upon, we are extremely partial to the creamy and fluffy variety. You know, the kind that just sort of melts in your mouth and brings a big smile to your face. If you're a fan of cheesecake, definitely keep reading because this is hands down the best cheesecake I have ever made. Period.
My whole family loves cheesecake (except my dad), so when I decided to go home for a visit last Sunday, I decided to bring along a cheesecake. The question was, what kind of cheesecake? I pondered on this question for a couple of hours and finally decided to keep it simple. I had an ample supply of ripe, juicy blueberries and raspberries in the fridge, so I knew they would play a role, just not sure in what capacity. I ended up establishing my game plan at the last minute; lemon scented cheesecake with a glossy berry topping. Simple, delicious and perfect for summer.
This cheesecake was a big hit; it was extremely creamy with a fresh, crisp flavor from the lemon zest and fresh berries. Brian ate himself sick after consuming two large pieces. My mom's boyfriend, Johnny-O, loved this cake so much she caught him scarfing it from the storage container while standing over the kitchen sink and refused to give her a bite. Personally, I'm all for sharing and spreading the love EXCEPT when it comes to cheesecake, so I totally get the selfish mentality over this dessert!
If you have read any of my previous cheesecake posts, you may remember that I am pretty vocal about my disdain for cracks. Even though you can cover them up, they still irritate me beyond words. I will tell you this cheesecake recipe has never ever cracked using my extremely scientifically proven techniques. Okay, so maybe I am exaggerating about the scientific part, but here is what works for me:
1. Make sure you use a good quality springform pan.
2. Use a water bath!
3. Wrap the bottom half of the pan tightly in heavy duty foil before baking (this helps prevent the water from leaking into the pan).
4. If you are slightly OCD like me, place the foiled pan into an oven bag for extra security.
5. Allow the baked cheesecake to cool in the oven and then on the counter before placing in the refrigerator (directions will explain this).
6. Have a back-up plan if your cake cracks…fruit acts as an excellent crack concealor or you can just embrace the cracks!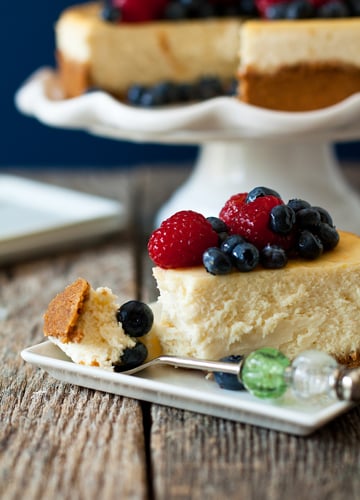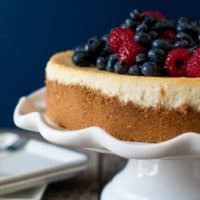 Lemon Cheesecake with Fresh Berries
Tart and tangy, this lemon cheesecake is a summertime treat. Top it with plenty of fresh berries for a delicious celebration dessert.
Print
Pin
Ingredients
For the crust
2

cups

graham cracker crumbs

½

cup

unsalted butter

melted

3

tablespoons

granulated sugar

½

teaspoon

fine sea salt
For the filling
32

ounces

cream cheese

4 packages, room temperature

1 ¼

cup

granulated sugar

4

large

eggs

room temperature

¾

cup

heavy cream

Zest of two lemons

1

tablespoon

pure vanilla extract

2

cups

fresh berries
Instructions
Preheat oven to 350°F. Tightly wrap a 9-inch springform pan in heavy duty foil. This step prevents leaks when using a water bath. I also take the extra step by placing the foil wrapped spring form pan inside an oven bag while baking.

Mix together the crust ingredients and press into the bottom of your pan and about 1 inch up the sides. Bake for 7 minutes and cool completely on a wire rack.

Begin to boil a large pot of water for the water bath.

In the bowl of your stand mixer fitted with your paddle attachment, combine the sugar and lemon zest and mix until the sugar is moistened and fragrant. Add in the cream cheese and cream together until smooth. Add eggs, one at a time, fully incorporating each before adding the next. Make sure to scrape down the bowl in between each egg. Add heavy cream and vanilla and mix until smooth.

Pour batter into prepared crust. Place pan into a larger pan and pour boiling water into the larger pan until halfway up the side of the cheesecake pan.

Bake 45 to 55 minutes, the edges will appear to be set, but the center will still have some jiggle to it. At this point, close the oven door, turn the heat off, and let rest in the cooling oven for 1 hour. After 1 hour has passed, carefully remove the cheesecake from the water bath and place on a cooling rack to cool completely. Once the cake is completely cooled, place it into the refrigerator for at least 5 hours. Top with fresh berries and serve.
Notes
For glossy berries, simply add 1 tablespoon of hot water to 1/4 cup apricot preserves. Blend until combined and thinned out. Place the berries in a bowl and gently brush and toss the berries with the apricot and water mixture.
If you are not a fan of lemon, simply omit the zest.
Nutrition
Calories:
429
kcal
|
Carbohydrates:
31
g
|
Protein:
6
g
|
Fat:
32
g
|
Saturated Fat:
18
g
|
Polyunsaturated Fat:
2
g
|
Monounsaturated Fat:
8
g
|
Trans Fat:
0.2
g
|
Cholesterol:
132
mg
|
Sodium:
342
mg
|
Potassium:
147
mg
|
Fiber:
1
g
|
Sugar:
24
g
|
Vitamin A:
1175
IU
|
Vitamin C:
4
mg
|
Calcium:
83
mg
|
Iron:
1
mg
The default measuring system on My Baking Addiction is US Customary. Unit conversions are provided as a courtesy; please be aware that there may be some discrepancies.
Card may contain affiliate links. As an Amazon Associate and member of other affiliate programs, I earn from qualifying purchases.