Earlier this summer, Barhyte Specialty Foods contacted me and asked if I would be interested in sampling a few products from their new line, Saucy Mama, and create a recipe using one of the products. I responded and within a week I had a giant box of full-size products on my doorstep filled with some pretty amazing goodies that ranged from Chipotle Mustard to Raspberry Vinaigrette.
After playing around with these sauces for over a month, I decided that I actually enjoy everything, but in my opinion, the real star of the bunch is the Lime Chipotle Marinade. We have used this marinade countless times on fish, shrimp, chicken and pork. The spicy flavor is outstanding and has quickly become a household favorite on our grilled meat, poultry and seafood.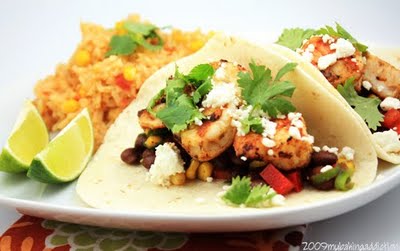 When thinking about developing a recipe around the Lime Chipotle Marinade, my mind immediately wanted to do something with shrimp. I decided on Lime Chipotle Shrimp Tacos stuffed with black bean and corn salad served alongside zesty rice.
I also threw in some Mediterranean flavors with the addition of the feta cheese to the tacos and Za'atar in the black bean and corn salad.
We loved this meal and will continue to use this awesome marinade! Make sure to check out the entire Saucy Mama line.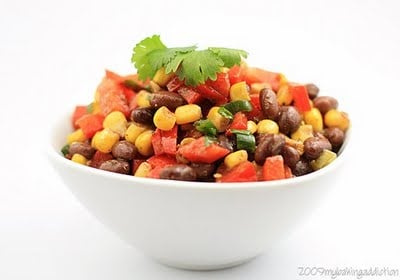 Lime Chipotle Shrimp Taco Dinner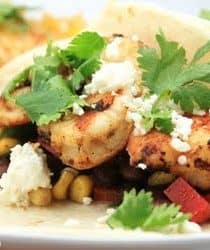 Ingredients:
For the Shrimp
1 pound raw shrimp; peeled and deveined (I used 26/30)
6 ounces Saucy Mama Lime Chipotle Marinade (1/2 bottle)
6 soft taco shells
1/3 cup crumbled feta cheese for garnish
cilantro; chopped for garnish
For the Corn & Black Bean Salad
3 TBS balsamic vinegar
2 tablespoons vegetable oil
1/2 teaspoon salt
1/2 teaspoon white sugar
1/2 teaspoon ground black pepper
1/2 teaspoon ground cumin
1 teaspoon Za'atar
2 tablespoons chopped fresh cilantro
1 (15 ounce) can black beans, rinsed and drained
1 (15 ounce) can sweet corn, drained
1 red pepper; diced
1 jalapeno; seeded and diced
2 green onion sliced
For the Zesty Rice
3 tablespoons vegetable oil
1 cup uncooked long-grain rice
1 teaspoon garlic salt
1/2 teaspoon ground cumin
1/4 cup chopped onion
1/3 cup salsa
2 TBS Lime Chipotle Marinade
2 cups chicken broth
1/2 cup corn
cilantro; chopped for garnish
Directions:
For the Shrimp
1. Marinate shrimp in the Lime Chipotle marinade for 10 minutes.
2. Preheat grill for medium heat. Place shrimp onto skewers, piercing once near the tail and once near the head.
3. Lightly oil grill grate. Cook shrimp on preheated grill for 2 to 3 minutes per side, or until opaque.
To assemble the tacos
1. Heat soft taco shells according to package directions.
2. Place the corn and black bean salad on the bottom of the soft taco shell, top with shrimp and garnish with feta cheese and cilantro.
For the Corn & Black Bean Salad
1. In a small bowl, mix together balsamic vinegar, oil, salt, sugar, black pepper, cumin, and Za'atar.
2. In a medium bowl, stir together black beans, red pepper, jalapeno, green onions and corn. Toss with vinegar and oil dressing, and garnish with cilantro. Cover, and refrigerate.
For the Zesty Rice
1. Heat oil in a large saucepan over medium heat and add rice.
2. Cook, stirring constantly, until puffed and golden. While rice is cooking, sprinkle with salt and cumin.
3. Stir in onions and cook until tender. Stir in salsa, Lime Chipotle Marinade and chicken broth; bring to a boil.
4. Reduce heat to low, cover and simmer for 20 to 25 minutes. Fold in the corn and garnish with cilantro.
All images and text ©
Follow Jamie on Instagram. We love to see what you're baking from MBA! Be sure to tag @jamiemba and use the hashtag #mbarecipes!
[pinit]