When I was a young child, I remember spending the night at my Nana's house. The days were typically filled with cooking, baking, board games and television. Much time was also spent making a feeble attempt to perfect my circus act by trying to walk/roll across her floor on an overturned ottoman. She'd scoff at me ruining her furniture, but secretly chuckle every time I fell off it and emerged from the floor with carpet burned arms.
These weekends would also include trips to the dollar and grocery stores, sometimes we'd pick up card games such as Old Maid, or inexpensive "rouge" for me to doll myself up with, and our weekend baking ingredients. Although my Nana was an amazing cook and baker, she would often pick up Entenmann's Coffee Cake for us to snack on throughout the weekend.
She'd pour me a glass of milk (which I actually drank back then) and cut us each a perfectly square piece of coffee cake. We'd discuss the day's plans or prepare for our weekly trip to the beauty shop.
Although I bake a lot and know that I can create pretty amazing homemade coffee cakes, I still find comfort in those white Entenmann's boxes.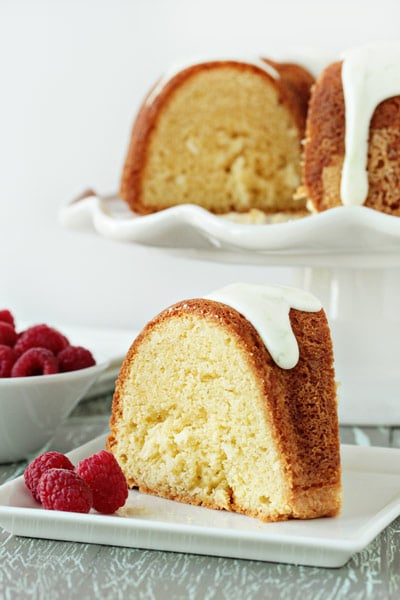 When I was approached by Green Valley Organics to create a recipe using their incredible sour cream, I knew immediately that I would be creating a sour cream coffee cake like I used to enjoy with my Nana. The infusion of lime was kind of an afterthought, but it is SO delicious! It's the perfect summer twist on a traditional coffee cake recipe.
If you have never tried Green Valley Organics Sour Cream, you definitely need to pick up a container. It's a lactose-free, incredibly creamy and smooth sour cream that enhances so many dishes. I'm also smitten with their plain Kefir – it's the perfect creamy addition to my morning fruit smoothies.
I really like that Green Valley Organics is committed to hormone free, antibiotic free, and lactose free dairy products. I can feel good about putting their food on our table, knowing exactly what isn't in it. Not to mention the taste of each product I've had is absolutely superb. One taste of their yogurt, sour cream, or kefir, and I'm pretty sure you're going to be checking your market so you can stock up.
Giveaway
Interested in trying Green Valley Organics? Well, you're in luck because two lucky winners will receive an insulated grocery tote, filled with a variety of Green Valley Organics lactose-free yogurt, sour cream, and kefir. All you have to do enter is leave a comment within this post. Simple, right?
Want extra entries?
Each item you do will get you ONE chance to win (for a total of 3 chances), if you ALREADY do any of these things, they DO count! So make sure to comment for each item! You MUST leave each entry as a separate comment or only one comment will count!
1. Join Green Valley Organics on Facebook.
2. Join Green Valley Organics on Twitter.
Important Details
-This giveaway is open to USA residents only and will run until Monday, June 20th at 11:59 pm EST.
-Winner(s) will be generated via a random number generator software program. Winner will be notified via the contact email provided on the comment contact form.
-Winner(s) will have until 6/23/11 to claim their prize.
-Winner(s) will receive an insulated grocery tote, filled with a variety of Green Valley Organics lactose-free yogurt, sour cream, and kefir. Product will be shipped by Green Valley Organics.
-See Official Giveaway Rules
Disclosure
This giveaway is provided to you by Green Valley Organics. The views and opinions expressed on My Baking Addiction are purely my own and based upon my personal experiences with Green Valley Organics products.
Lime Coconut Sour Cream Bundt Cake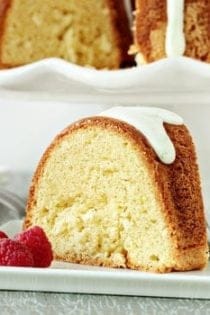 Ingredients:
For the Cake
1 cup unsalted butter , softened
1 1/2 cups granulated sugar
zest of 3 medium limes
2 teaspoons vanilla
2 eggs
2 cups all-purpose flour
1 teaspoon baking powder
1 teaspoon baking soda
1 cup Green Valley Organics Sour Cream
1/2 cup sweetened flaked coconut
For the Lime Glaze
1 cup confectioners' sugar, sifted
5 tablespoons heavy cream
½ teaspoon pure vanilla extract
zest of 1 medium lime
Directions:
For the Cake
1. Preheat oven to 350 degrees F. Grease and flour a 10 inch bundt pan, set aside.
2. In the bowl of a stand mixer, fitted with the paddle attachment, or with a hand mixer in a large bowl, cream the butter until smooth.
3. In a medium bowl, combine the sugar and lime zest mixing together with your fingertips until the sugar is moistened and fragrant. Add the sugar mixture gradually to the butter and beat on medium speed until light fluffy, about 3 minutes. Mix in vanilla.
4. Add eggs, 1 at a time, beating well after each addition.
5. In a medium bow, combine flour, baking powder and baking soda. Add flour mixture to sugar mixture alternately with sour cream, beating until well blended after each addition. Fold in coconut.
6. Spoon mixture into prepared pan and smooth the top with a spoon or offset spatula.
7. Bake 50 minutes to 60 minutes or until a toothpick inserted in center comes out clean. 8. Cool for 20 minutes on a wire rack. Invert cake onto wire rack; gently remove pan. Cool completely.
For the Lime Glaze
1. In a medium bowl, combine all ingredients and stir until smooth. If mixture is too thick add more cream one teaspoon at a time until you reach the desired consistency. I like my glaze to be thick so 5 tablespoons usually turns out to be to my liking.
2. Spoon over cooled cake.
All images and text ©
Follow Jamie on Instagram. We love to see what you're baking from MBA! Be sure to tag @jamiemba and use the hashtag #mbarecipes!