I don't know what the weather is like where you live, but here in Ohio our grass is still blanketed with almost a foot of snow and it is freezing. This type of weather has me craving the cool, refreshing flavors of summer. After watching Ina's Keep it Sweet episode on Barefoot Contessa last weekend, I knew the exact recipe to get my summer flavor fix! She baked a Lime Meringue Tart that had me drooling and if I had fresh limes on hand, I would've made it that night.
For some reason I always feel so compelled to make Ina's dishes and desserts, I am just drawn to her way of cooking and her personality. Watching her on the Food Network makes me want to be her neighbor; not just because she lives in the Hamptons & has a fab garden, but because she really strikes me as very genuine and kind woman. Anyway enough of my Ina gushing, let's move on to this Lime Meringue Tart.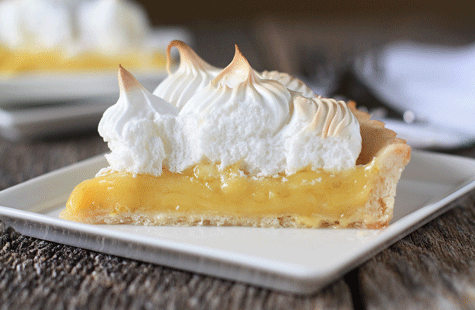 I always read the reviews if I am planning to make a recipe that can be found online. I think they can be an indispensable tool when making a dish or dessert for the first time because they give a firsthand account of the preparation, flavor, and tweaks. Although this recipe was rated 4 stars, many of the reviews said the lime filling did not set and kind of oozed (bad word choice) into the pan when the tart was sliced. Although I am not down with oozy filling, I decided to make the recipe as written and judge it for myself. Well, my filling was not a gooey mess, but it did take much longer than the 8-10 minutes stated in the recipe to thicken and reach 175 degrees. In fact this recipe took quite some time to prepare…although it may have been due to the fact I am an anal fool when making pies.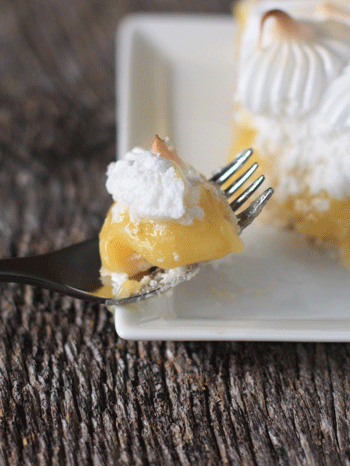 Okay my anal tendencies aside, let's talk individual pie components…
The crust was easy to prepare and maintained a nice buttery, flaky texture, I will definitely use this dough recipe again and again. The lime filling was so good I wanted to eat it with a spoon. In my opinion, it had the perfect balance of sweetness and tartness to it. The meringue…oh the meringue, although it is light, fluffy and gorgeous, I don't think I am all that into it! I couldn't quite put my finger on it, but I am guessing it's a textural thing. Brian was not a fan of this tart at all, in fact he did not even finish a piece; however, he is definitely not a lime lover…so essentially disregard his review. Have a fabulous day and thanks so much for taking the time to check out this recipe.

Lime Meringue Tart
Ingredients:
For the Lime Filling
1/4 pound (1 stick) unsalted butter, at room temperature
1 1/2 cups sugar
4 extra-large eggs
3 extra-large egg yolks (save the whites for the meringue)
1/4 cup finely grated lime zest (6 to 8 limes)
1/2 cup freshly squeezed lime juice
1/8 teaspoon kosher salt
For the Tart
1 1/4 cups all-purpose flour
1/2 cup sugar, plus 3 tablespoons
Kosher salt
6 tablespoons (3/4 stick) cold unsalted butter, diced
2 tablespoons cold shortening (recommend: Crisco)
1/4 cup ice water
4 extra-large egg whites, at room temperature
1/4 teaspoon cream of tartar
Lime Filling
Directions:
For the Lime Filling
1. Cream the butter and sugar in the bowl of an electric mixer fitted with the paddle attachment for 1 minute. On low speed, add the eggs and egg yolks, 1 at a time, and then add the lime zest, lime juice, and salt. Don't worry; it will look curdled.
2. Pour the mixture into a small saucepan and cook over medium-low heat for 8 to 10 minutes, until thick, stirring constantly with a wooden spoon. Whisk briskly when it starts to thicken and cook over low heat for a minute or two, whisking constantly. Don't allow it to boil! It will be 175 degrees on an instant-read thermometer. Pour into a bowl and cool to room temperature.
For the Tart
1. Combine the flour, 3 tablespoons of the sugar, and 1/2 teaspoon salt in a bowl and place in the freezer for 30 minutes. Put the flour mixture in the bowl of a food processor fitted with a steel blade. Add the butter and shortening and pulse about 10 times until the butter is in small bits. Add the ice water and process until the dough comes together. Dump on a well-floured board and form into a disk. Wrap in plastic and chill for at least 30 minutes.
2. Meanwhile, preheat the oven to 375°F.
3. Roll out the dough and fit into a 9-inch tart pan with removable sides. Don't stretch the dough when placing it in the pan or it will shrink during baking. Cut off the excess by rolling the pin across the top of the pan. Line the tart shell with a piece of buttered aluminum foil, butter side down, and fill it with dried beans or rice. Bake for 10 minutes. Remove the beans and foil and prick the bottom of the shell all over with a fork to allow the steam to escape. Bake for another 15 to 20 minutes, until lightly browned. Set aside to cool.
4. Raise the oven temperature to 425°F.
5. For the meringue, whip the egg whites, cream of tartar, and 1/4 teaspoon salt in the bowl of an electric mixer fitted with the whisk attachment on high speed until frothy. With the mixer still running, slowly add the remaining 1/2 cup of sugar and beat until the meringue is thick and shiny, about 2 minutes.
6. Immediately spread the lime filling in the cooled tart shell and pipe the meringue over it with a large star tip. Be sure the meringue covers the entire top and touches the edges of the shell, to prevent it from shrinking. Bake for 3 to 5 minutes, until the meringue is lightly browned. Cool to room temperature.
Follow Jamie on Instagram. We love to see what you're baking from MBA! Be sure to tag @jamiemba and use the hashtag #mbarecipes!
[pinit]