Simple but decadent Malted Chocolate Pots de Creme are perfect make ahead desserts for your Easter brunch.
When it comes to buying Easter candy, I have very little self control. I get sucked into the flashy displays full of bunnies and eggs and I'm a goner. It's fascinating to me just how many different kinds of candy they can recreate in egg form. Seriously, have you noticed this?
The candy aisle at Target is lined with so many egg shape candies, the mind boggles. Some of my favorite egg shaped goodies are Reeses eggs, Hershey's dark chocolate eggs and Whoppers malted eggs. We've already gone through several bags of the malted eggs and I've had to cut myself off from buying anymore – at least until Easter gets a bit closer.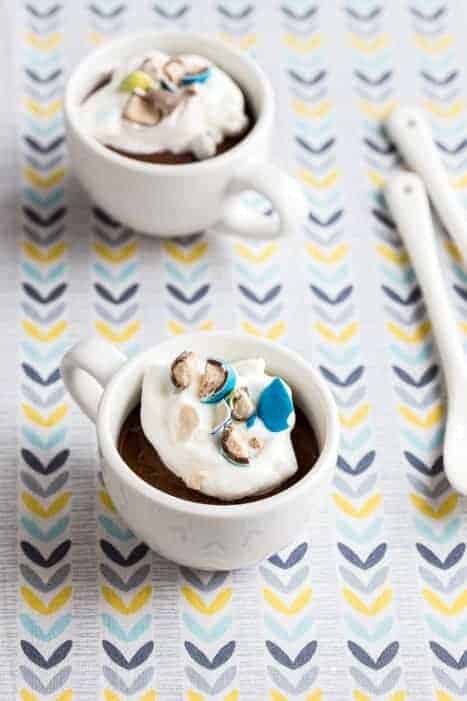 A few weeks ago, as I was popping little malted eggs into my mouth by the handful, I got to thinking that I don't make nearly enough malted desserts. I adore malted milk balls and I always choose a malt over a standard milk shake. There is just something extra about the malt flavor that makes it rich and intriguing. It's like a delicious, mysterious milkshake.
I started brainstorming desserts besides shakes that I could infuse with rich, malted milk and I I came up with silky smooth pots de creme. Pots de Creme is shockingly easy to make and this Malted Chocolate Pots de Creme is rich, creamy and full of malted goodness.
Top each little cup with some sweetened whipped cream and a few crushed malted Easter eggs and you will have yourself a simple, decadent make ahead dessert for Easter.
For more Easter inspiration, be sure to check out some of my favorite recipes.
Malted Chocolate Pots de Creme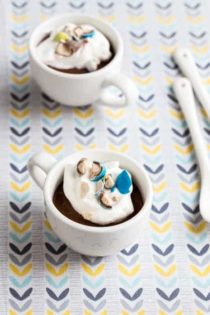 Ingredients:
9 oz high quality, dark chocolate (chopped or chips)
2 cups heavy cream
1 cup whole milk
6 large egg yolks
1/2 cup malted milk powder
1/4 cup + 2 Tablespoons granulated sugar
sweetened whipped cream and malt balls for garnish
Directions:
Place chocolate in a blender and set aside. In a medium sauce pan, pour heavy cream, milk, egg yolks, malted milk powder and granulated sugar and place over a medium heat. Cook, whisking constantly until the mixture is just below boiling and is thick enough to coat the back of a spoon.
Pour hot milk mixture over chocolate in the blender and replace lid. Cover the lid with a kitchen towel and blend until mixture is smooth. Pass through a fine mesh strainer and divide among ramekins, jars or cups (your choice). Chill for about 2 hours or until set and garnish with sweetened whipped cream and crushed malted milk balls.
Enjoy!
Jelly Toast adapted from Food Network
All images and text ©
Follow Jamie on Instagram. We love to see what you're baking from MBA! Be sure to tag @jamiemba and use the hashtag #mbarecipes!