I am a big fan of the Food Network, in fact it's pretty much the only thing I watch. I cannot get over the fact that Cablevision droppped the Food Network from their lineup! That would definitely be a deal breaker, thank goodness I have AT&T. I actually DVR a bunch of episodes throughout the week and watch them in the evenings before bed.
This is sometimes not the best idea because I find myself at 11:00 pm craving anything from Alton's Tuna Croquettes to Paula's Monster Cookies. I am definitely far too lazy and tired to cook or bake at 11:00 pm, which I guess is a good thing for me and my behind! I recorded Ina's show last Saturday and the Maple Oatmeal Scones looked so delicious, I made them right after the show was over.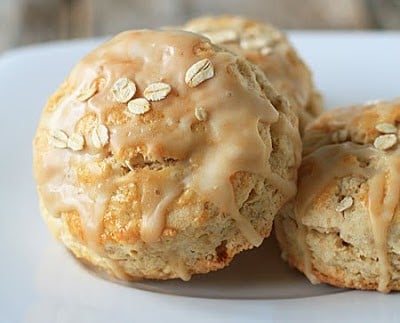 I think most of Ina's recipes are pretty flawless and this recipe definitely falls in the category. The recipe uses very simple ingredients and the dough comes together quickly, but be warned, this recipe makes one honking scone. These babies were HUGE and I even used a smaller biscuit cutter than the three incher Ina used, but will definitely make them even smaller next time. In my opinion, the texture of the recipe was definitely more biscuit like than scone like, but that was perfectly fine with us and they were devoured by Brian's co-workers in no time!
The taste of these Maple Oatmeal Scones was definitely scrumptious; they were rich and buttery with just the perfect amount of mapley sweetness. You can even make these the night before, wrap them tightly in plastic wrap and bake them the next morning. Can you think of a better way to impress your guests or your family on a Sunday morning.

Maple Oatmeal Scones
Ingredients:
For the Scones
3 1/2 cups all-purpose flour
1 cup whole-wheat flour
1 cup quick-cooking oats, plus additional for sprinkling
2 tablespoons baking powder
2 tablespoons granulated sugar
2 teaspoons salt
1 pound cold unsalted butter, diced
1/2 cup cold buttermilk
1/2 cup pure maple syrup
4 extra-large eggs, lightly beaten
1 egg beaten with 1 tablespoon milk or water, for egg wash
For the Glaze
1 1/4 cups confectioners' sugar
1/2 cup pure maple syrup
1 teaspoon pure vanilla extract
Directions:
For the Scones
1. Preheat the oven to 400 degrees F.
2. In the bowl of an electric mixer fitted with a paddle attachment, combine the flours, oats, baking powder, sugar and salt.
3. Blend the cold butter in at the lowest speed and mix until the butter is in pea-size pieces.
4. Combine the buttermilk, maple syrup and eggs and add quickly to the flour-and-butter mixture. Mix until just blended. The dough may be sticky.
5. Dump the dough out onto a well-floured surface and be sure it is combined. Flour your hands and a rolling pin and roll the dough 3/4 to 1 inch thick. You should see lumps of butter in the dough.
6. Cut into 3-inch rounds with a plain or fluted cutter and place on a baking sheet lined with parchment paper.
7. Brush the tops with egg wash. Bake for 20 to 25 minutes, until the tops are crisp and the insides are done.
For the Glaze
1. To make the glaze, combine the confectioners' sugar, maple syrup and vanilla.
2. When the scones are done, cool for 5 minutes and drizzle each scone with 1 tablespoon of the glaze.
Notes:
- Ina used Irish Quick Cooking Oats; I used Quaker.
- The dough is very sticky, so don't be alarmed, just make sure you work on a well floured surface.
- I let my scones cool for about 10 minutes before drizzling on the glaze.
- I like to sprinkle some uncooked oats on the top, for garnish.
- The warmer the scones are when you glaze them, the thinner the glaze will be.
Adapted from Ina Garten
All images and text ©
Follow Jamie on Instagram. We love to see what you're baking from MBA! Be sure to tag @jamiemba and use the hashtag #mbarecipes!
[pinit]