These light and tender Meyer Lemon Meltaways are sweet, citrusy and pair perfectly with a cup of tea.
Girl Scout Cookie season is in full swing and I've been hit up by my nieces to buy all sorts of classic favorites. Hands down, Samoas (or Caramel Delights as us old timers call them) are my all time favorite. The chocolate and coconut combo can't be beat. And while these will always hold a dear place in my heart, there is a newer cookie that has grabbed my attention called Savannah Smiles. Have you tried these? They're lemony, tender, dusted in powdered sugar and all around fabulous. So fabulous that I fear they may edge out my long-time favorites. I can't help myself. When January rolls around, I get positively enthusiastic about citrus.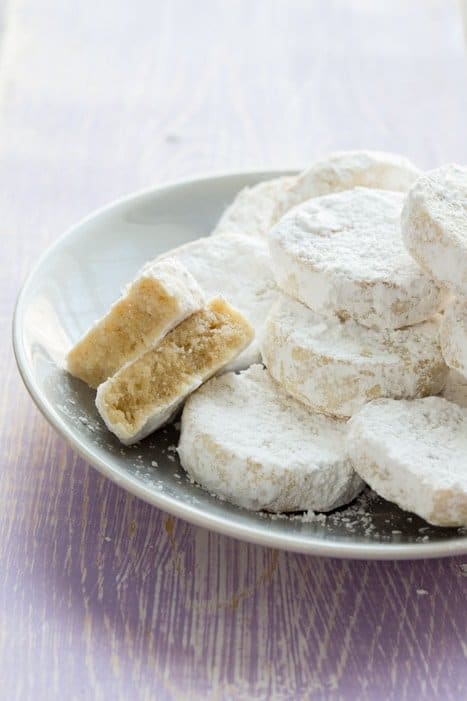 Well, I had a half a dozen Meyer Lemons sitting around after making my Meyer Lemon Scones for Jamie's baby shower, I figured I would try my hand at making a similar cookie at home. These Meyer Lemon Meltaways are just what I was hoping for. They're dainty, sweet and citrusy, and while I'm a coffee lover to my soul, I actually preferred nibbling on these little cookies with my night time cup of tea. Lemon cookies and tea over chocolate and coffee? I don't even know myself anymore.
I used my beloved Meyer lemons to make these cookies, but you could easily use regular lemons in their place. You could even go wild and mix up the citrus all together: limes, grapefruits, oranges. They would all yield deliciously sweet results.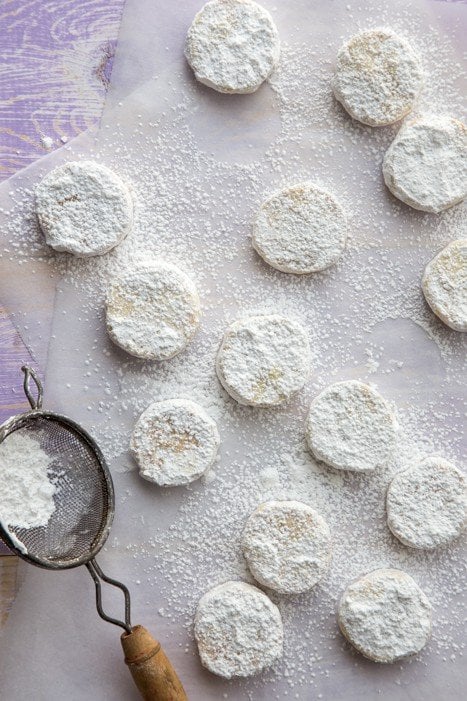 Meyer Lemon Meltaways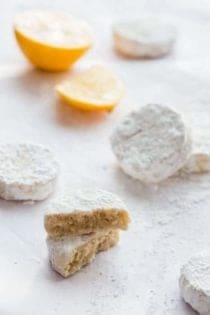 Ingredients:
1 1/2 sticks (3/4 cup) unsalted butter, room temperature
1 cup of confectioner's sugar, divided
zest of 3 Meyer lemons (about 1 1/2 tablespoons)
3 tablespoons fresh Meyer lemon juice
1 tablespoon pure vanilla extract
1 3/4 cup + 2 tablespoons all-purpose flour
2 tablespoons corn starch
1/4 teaspoon kosher salt
Directions:
Preheat oven to 350°F.
Cream together butter and 1/3 cup of confectioner's sugar, in the bowl of a stand mixer fit with the paddle attachment, on medium speed until light and fluffy. Add Meyer lemon zest, Meyer lemon juice and vanilla extract and beat until incorporated. The mixture may seem to separate briefly, but simply keep mixing until it comes together and becomes creamy.
In a medium bowl, whisk together flour, cornstarch and salt. With the mixer on low, gently add dry ingredients, about 1/4 cup at a time, beating briefly between each addition, until all of the flour mixture is incorporated.
Divide dough in half and roll each half into a 1 1/2 inch diameter log. Wrap each half in parchment paper and chill in the refrigerator for about 1 hour or until firm. You can alternatively freeze the rolls for about 30 minutes.
Remove dough from fridge, unwrap and slice into 1/4 inch thick slices. Place on parchment lined baking sheets and bake for about 13-14 minutes or until cookies are just turning golden, but still a bit soft to the touch. Allow cookies to cool on baking sheets for about 10 minutes.
Place remaining confectioner's sugar in a gallon size zip top bag. Add about 3-4 cookies at a time to the bag, seal the bag and toss gently to coat the cookies in the sugar. Remove cookies to a wire rack to finish cooling.
Store cookies in an air tight container for up to 1 week.
Follow Jamie on Instagram. We love to see what you're baking from MBA! Be sure to tag @jamiemba and use the hashtag #mbarecipes!