Every once in a while I get in a little funk. Not the kind of funk that makes me want to lay in bed consuming a bag of Cheetos and a bottle of Moscato while watching 10 episodes of Storage Wars, but a funk nonetheless. You're judging me right now aren't you? I've never really done those things – but almost.
I'm talking more of a baking funk, when nothing sounds good and my list of must make items is less than inspiring. I've learned throughout my four years – yes, it's been four whole years as of yesterday – of blogging that sometimes ya just need a break. And it's far better to chill out and watch those episodes of Storage Wars as opposed to forcing creativity.
[pinit]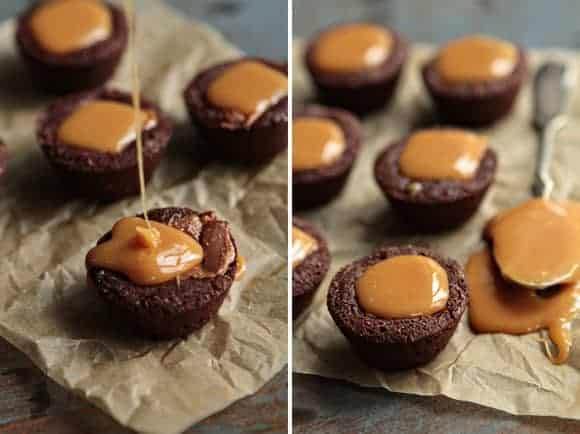 I often get asked where my inspiration comes from and honestly it comes from everywhere – books, bakeries, blogs, hey, that's a lot of b words. However, the bulk of my inspiration comes from the market. I love strolling through the aisles and checking out the fruit, candy, and baked goods – and chucking things into my cart if they strike my fancy.
That's exactly how I got out of my latest funk with these Milky Way Brownie Bites. Someone left a bag of miniature Milky Way candy bars on top of a box of store-made brownie bites. And just like that – BOOM – funk over. And to the lazy customer that randomly tossed their bag o' candy into the bakery section – my creativity thanks you.
Bite size brownies are stuffed with miniature Milky Way candy bars and topped with pool of caramel to create a popable bite of brownie bliss. Moral of the story? Brownies break funks.[pinit]
Milky Way Brownie Bites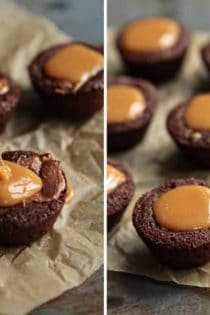 Ingredients:
For the Brownies
4 ounces unsweetened chocolate; coarsely chopped
3/4 cup unsalted butter, cut into cubes
1 1/4 cups sugar
3 large eggs
1 teaspoon pure vanilla extract
1/4 teaspoon salt
1 cup Gold Medal all-purpose flour
48 miniature Milky Ways; frozen for at least 1 hour
For the Caramel Sauce
15 individually wrapped caramel candies (I used Kraft)
2 tablespoons heavy cream
Directions:
1. Preheat oven to 350 degrees. Lightly spray the wells of a nonstick miniature muffin tin with nonstick cooking spray such as Pam.
2. Microwave chocolate and butter in a large, microwave-safe bowl at medium (50% power) for 3-4 minutes or until butter is melted.
3. Stir until chocolate is melted. Whisk in sugar, eggs, vanilla and salt. Gradually add in flour; stir until just combined.
4. Using a small cookie scoop (about 2 teaspoons), scoop the brownie batter into the prepared miniature muffin tin wells. Place a miniature Milky Way into the center of each well and press it lightly into the batter. Do not worry about covering the Milky Way with batter. Bake brownies in preheated oven for 9-10 minutes, the edges will look set. Do not over bake.
5. Remove to cooling rack to cool completely. Carefully remove the brownie bites from the pan (see note below) and prepare the caramel sauce.
6. To make the caramel sauce, place the caramels and heavy cream in a microwave-safe bowl. Microwave on 50% power in 30-second increments until the caramels begin to melt; stir frequently. Continue warming and stirring the caramels until you have a smooth, creamy mixture. Drizzle caramel onto the center of each brownie brownie bite.
Notes:
- Brownie bites are best served they day they are made, but will keep in an airtight container at room temperature for up to 1 day.
- I easily coaxed the cooled brownie bites out of the pan using a toothpick.
Source: My Baking Addiction
All images and text ©
Follow Jamie on Instagram. We love to see what you're baking from MBA! Be sure to tag @jamiemba and use the hashtag #mbarecipes!