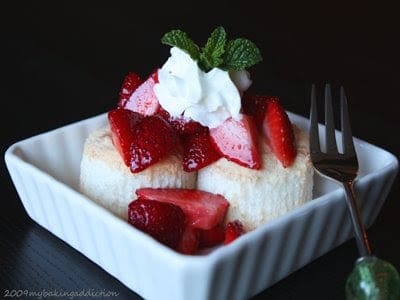 Over the weekend, I made a delectable dinner of barbequed baby back ribs with twice baked potatoes and grilled asparagus. I figured this would be plenty of food, but the boyfriend requested a dessert to accompany the feast. I did not want to make anything heavy considering the menu had enough fat and calories to suffice us for several days, so I opted for mini angel food cakes which I topped with macerated strawberries and a dollop of whipped cream. The recipe for angel food cake was super easy to make and in my opinion tasted much better than the boxed version. Although I am not a huge fan of angel food cake, I found this dessert to really hit the spot on a warm spring day.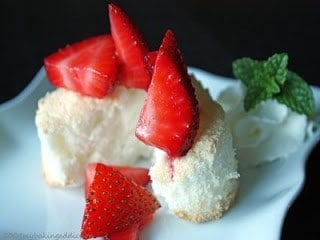 Angel Food Cake
Adapted from allrecipes
Makes 14 cupcakes
Ingredients
6 eggs
1/2 cup and 2 tablespoons confectioners' sugar
1/2 cup all-purpose flour
3/4 teaspoon cream of tartar
3/4 teaspoon vanilla extract
1/4 teaspoon almond extract
1/8 teaspoon salt
1/2 cup sugar
Directions
1. Separate eggs; discard yolks or refrigerate for another use. Measure egg whites, adding or removing whites as needed to equal 3/4 cup. Place in a mixing bowl; let stand at room temperature for 30 minutes.
2. Preheat oven to 350 degrees F and prepare your cupcake pan by lining and/or spraying with non-stick cooking spray (I usually line then give them a quick spray).
3. Meanwhile, sift confectioners' sugar and flour together three times; set aside.
4. Add cream of tartar, extracts and salt to egg whites; beat on high speed.
5. Gradually add sugar, beating until sugar is dissolved and stiff peaks form.
6. Fold in flour mixture, 1/4 cup at a time.
7. Gently spoon batter into prepared cupcake pan. Cut through batter with a knife to remove air pockets.
8. Bake at 350 degrees F for 15 minutes or until cake springs back when lightly touched.
9. Remove from oven and allow to cool on wire rack.
10. Garnish with macerated strawberries and a dollop of whipped cream…Enjoy!