Mini Brownies and Cheesecakes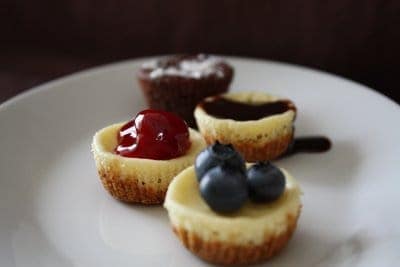 Yesterday I made mini desserts: three types of cheesecakes and brownie bites. I searched the internet for quite some time looking for a great brownie recipe. I decided on a recipe that claimed to yield a deep dish brownie because I really do not enjoy the thin variety. I think brownies, like chocolate chip cookies, are something that come down to personal preference. Some like them chewy and thick, others enjoy them thin with crispy edges. Whatever your preference is I am sure there is a brownie recipe out there for you.
Now on to my one of my favorite desserts – cheesecake. I love cheesecake, I mean I really love cheesecake. It is usually my go to dessert for potlucks, dinner parties, etc. I think I like cheesecake so much because it is easily adaptable to all four seasons and recipes can be found in such a wide array of delicious flavors. Both the cheesecakes and brownies recipes are from Allrecipes.
I chose to make these desserts in my mini muffin pan because first of all, they are adorable, but they are also super convenient to transport as well as eat! For the cheesecake recipe, I used a traditional graham cracker crust, not vanilla wafers as the recipe states. For the brownies I only used two eggs instead of three.
Enjoy!
Keep checking my blog because next week I am going to have a fun little giveaway for a kitchen gadget that pertains to the recipe!
Now tell me your favorite brownie recipes, as I am still on the search for the perfect one!
[pinit]
This post may contain affiliate links. We are a participant in the Amazon Services LLC Associates Program, an affiliate advertising program designed to provide a means for us to earn fees by linking to Amazon.com and affiliated sites.