There is a commercial for a chain restaurant (I don't remember which one) on television that is featuring a chocolate bundt cake with vanilla ice cream and hot fudge sauce. Let's just say that this was love at first sight for Bri and he has been hounding me to recreate it since he laid his eyes on it!
Last night I had some extra time on my hands and decided to throw this together complete with homemade hot fudge sauce. I used the recipe for One Bowl Chocolate Cake on allrecipes, but cut the ingredients in half to accommodate mini bundt pans. Apparently this recipe is the same recipe on the back of the Hershey's Cocoa can, but I am out of Hershey's Cocoa, so I cannot confirm or deny this.
Everything came together super quickly, especially the amazingly delicious hot fudge sauce that I wanted to lap out of the pan. I refrained from doing this and decided to be ladylike and simply lick it off my fingers!
I did not go out and buy any fancy shmancy chocolate because I am trying to clean out cupboards, so I used Nestle Semi-Sweet Chocolate Chips, which worked out just fine! If you are looking for a man-pleasing dessert, I definitely believe this is one of them. However, exercise caution with this hot fudge sauce and do not blame me if you eat it straight from the pan!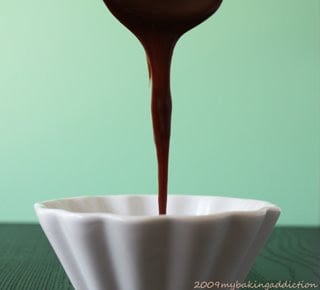 Mini Chocolate Bundt Cakes with Hot Fudge Sauce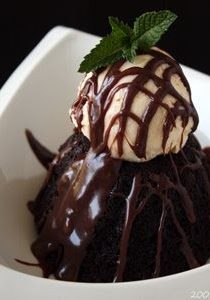 Ingredients:
For the Mini Chocolate Bundt Cakes
1 cup white sugar
3/4 cup and 2 tablespoons all-purpose flour
1/4 cup and 2 tablespoons unsweetened cocoa powder
3/4 teaspoon baking powder
3/4 teaspoon baking soda
1/2 teaspoon salt
1 eggs
1/2 cup milk
1/4 cup vegetable oil
1 teaspoon vanilla extract
1/2 cup boiling water
For the Hot Fudge Sauce
1 (14 ounce) can sweetened condensed milk
4 (1 ounce) squares semisweet chocolate
2 tablespoons butter (no substitutes)
1 teaspoon vanilla extract
Directions:
For the Mini Chocolate Bundt Cakes
1. Preheat oven to 350°F (175°C). Spray 4 mini bundt pans with non-stick cooking spray.
2. In a large bowl, stir together the sugar, flour, cocoa, baking powder, baking soda and salt. Add the eggs, milk, oil and vanilla, mix for 2 minutes on medium speed of mixer. Stir in the boiling water last. Batter will be thin. Pour evenly into the prepared pans.
3. Bake 20 to 25 minutes in the preheated oven, until the cake tests done with a toothpick. Cool in the pans for 10 minutes, then remove to a wire rack to cool completely.
For the Hot Fudge Sauce
1. In a heavy saucepan, combine the milk, chocolate and butter. Cook and stir over medium-low heat until chocolate is melted. Remove from the heat; stir in vanilla.
2. Slather it on anything and enjoy!!! Even your fingers ;)
both recipes adapted from allrecipes
All images and text ©
Follow Jamie on Instagram. We love to see what you're baking from MBA! Be sure to tag @jamiemba and use the hashtag #mbarecipes!
[pinit]