Mini Chocolate Poke Cakes are baked to perfection in canning jars, drenched in caramel, and topped with whipped cream and toffee chips to create the perfect mini dessert.
My dad and brother came into town this weekend to visit Elle – we were just back home a week ago, but they simply can't get enough of our sweet baby girl. Not that we can blame them, she's pretty much the cutest baby ever. Just sayin'.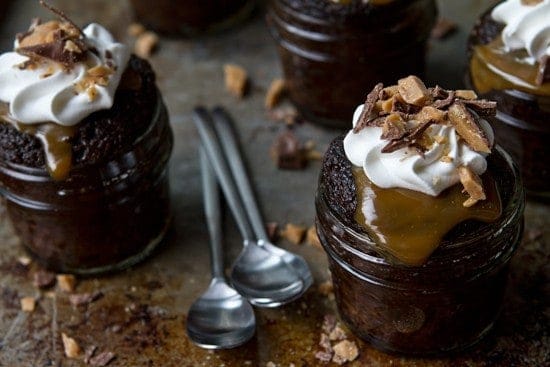 Even though the road trip is pretty short, they always bring their appetites. Which happens to work out perfectly because we all know that I love to be in the kitchen. From homemade sloppy joes and crock pot carnitas to a huge breakfast and Mini Chocolate Poke Cakes – it pretty much felt like a Thanksgiving cooking marathon – minus the turkey and stuffing. And since Eric is the best sous chef and dishwasher, I was able to cook up a storm and photograph a few of the recipes to share with you guys!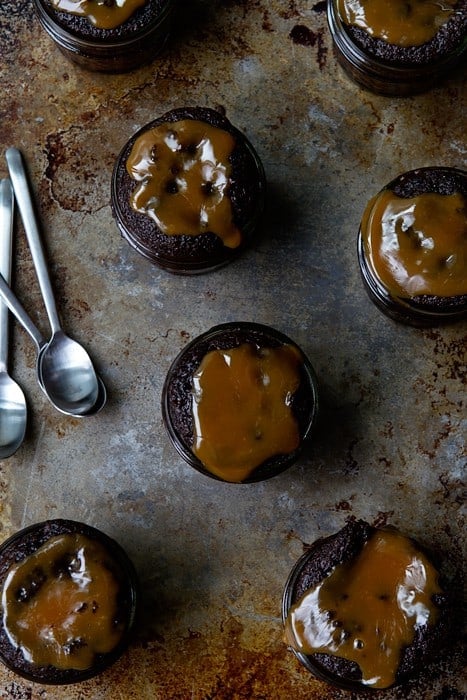 First up on the list are these Mini Chocolate Poke Cakes. My mom surprised me with a box of small canning jars a few months ago and since I'm not much of a canner, I thought I'd put them to good use by baking with them. The best chocolate cake recipe is made a little more portable and delicious with the addition of caramel sauce, whipped cream and Heath candy bar bits. Plus, there's built in portion control – which is always a bonus unless, of course, you eat two of them – like a certain someone did.
I'm not naming names, but I am saying it's entirely possible you'll want to eat two of them. And also that I take no responsibility for that. Chocolate is just loveable in general, then when you add toffee AND caramel? Well, let's just say I may have created the most irresistible mini dessert you ever did see.
Take 'em along to your Easter celebrations. They travel well, and hey, the Easter Bunny might leave you extra goodies in trade.
Source Information:
4 Ounce Ball Quilted Jelly Canning Jars from Amazon
Mini Chocolate Poke Cakes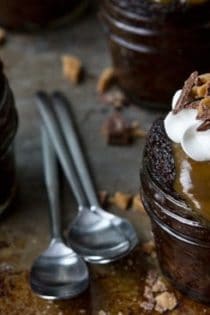 Ingredients:
1 3/4 cups all-purpose flour
2 cups granulated sugar
3/4 cups unsweetened cocoa powder
2 teaspoons baking soda
1 teaspoon baking powder
1 teaspoon salt
1 cup buttermilk, shaken
1/2 cup vegetable oil
2 eggs, at room temperature
1 teaspoon pure vanilla extract
1 cup freshly brewed hot coffee
For the Topping
1 cup quality caramel sauce
whipped cream or whipped topping
Heath candy bar bits
Directions:
1. Preheat the oven to 350 degrees F. Spray 18 small (4 ounce) canning jars with nonstick cooking spray. Place jars on a large baking sheet. Be sure to leave room between each of the jars for air to circulate while baking.
2. Sift the flour, sugar, cocoa powder, baking soda, baking powder, and salt into the bowl of an electric mixer fitted with the whisk attachment and mix on low speed until combined.
3. In another bowl, whisk together the buttermilk, oil, eggs, and vanilla. With the mixer on low speed, slowly add the wet ingredients to the dry. With mixer still on low, add in the coffee stir just to combine, scraping the bottom of the bowl with a rubber spatula. The batter will be very thin.
4. Using a large scoop, distribute the batter into the prepared canning jars, filling each 2/3 of the way full. Be sure you do not overfill the jars.
5. Bake for 22-24 minutes, or until a cake tester comes out clean. Allow jars to cool for 5 minutes.
6. Once cakes have cooled for 5 minutes, use a wooden skewer to poke holes in the top of each cake. Spoon 2 teaspoons of caramel over the top of the warm cakes, allowing it to trickle into the holes. If desired, top each cake with whipped cream and Heath candy bar bits.
Notes:
- Mini Chocolate Poke Cakes are best served the day they are made; however, cakes can be stored within the refrigerator for up to 2 days.
- I have never had an issue baking is canning jars; however, there is a noted risk of them shattering. Be careful and have fun!
Adapted from Hershey's
All images and text ©
Follow Jamie on Instagram. We love to see what you're baking from MBA! Be sure to tag @jamiemba and use the hashtag #mbarecipes!