This morning I woke up and decided to whip together a little Fourth of July dessert that would be easy, but also delicious and festive. Since I am so in love with my mini bundt pans, I decided to use them yet again, this time for mini lemon pound cakes.
I was excited to make these because I was able to use a new product that was introduced to me by Stonyfield Farms. About a month ago they contacted me and asked if I would like coupons to try their new Oikos Organic Greek Yogurt. Of course I accepted, and within a few days had a bunch of coupons and a great yellow tote on my doorstep.
It was a little difficult for me to find the yogurt, but once I did, I was in love! I am a big fan a Greek yogurt and find it to be a terrific addition to many recipes and a great substitute for sour cream. In fact, I used it in place of sour cream in this recipe and it came out delicious!!!
Stay tuned for more recipes with this yogurt because I have a bunch of great coupons. Be sure to check their website for coupons!!
I hope all of you have a safe and happy Fourth of July filled with great company and delicious food!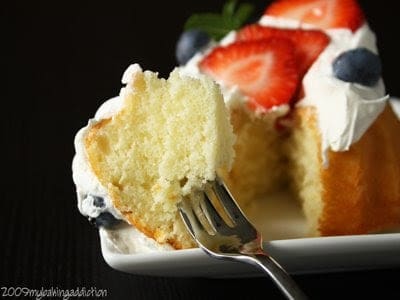 Fourth of July Lemon Bundt Cakes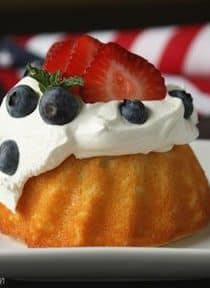 Ingredients:
1/2 cup butter (no substitutes), softened
1-1/2 cups sugar
3 eggs
2 tablespoons and 1 1/2 teaspoons lemon juice
1 1/2 teaspoons grated lemon peel
1/2 teaspoon lemon extract
1 1/2 cups all-purpose flour
1/4 teaspoon baking soda
1/8 teaspoon salt
1/2 cup and 2 tablespoons Greek yogurt
Directions:
1. Preheat oven to 350°F and spray mini bundt pans with non-stick spray.
2. In a large mixing bowl, cream butter and sugar until light and fluffy, about 5 minutes. Add eggs, one at a time, beating well after each addition. Stir in lemon juice, peel and extract.
3. Combine the flour, baking soda and salt; add to the creamed mixture alternately with the Greek yogurt. Beat just until combined.
4. Pour into a greased pans. Bake at 350°F for 20-25 minutes or until a toothpick inserted near the center comes out clean. Cool for 10 minutes before removing from pans to a wire rack to cool completely.
5. Garnish with whipped cream or Cool Whip and lots of berries!
Follow Jamie on Instagram. We love to see what you're baking from MBA! Be sure to tag @jamiemba and use the hashtag #mbarecipes!
[pinit]