If you're over my no bake cheesecake creations, you may want to stop reading right here because I have not one, but two delightful adaptions of my favorite Summer dessert.
Who wants to turn on the oven to bake a cheesecake – or anything for that matter – when temperatures are over 100 degrees? Certainly not this girl. The Ohio humidity coupled with 105 degree temps is enough to take your breath away. Plus, it makes my fingers look like sausages and my clothes stick to my body like cling wrap. Not awesome at all.
When thinking of a new no bake recipe, I decided to make use of the Andes Crème de Menthe Cookies that I had recently picked up. In my opinion, you just can't go wrong with a Mint-Chocolate combination – especially when there's cream cheese and cookies involved.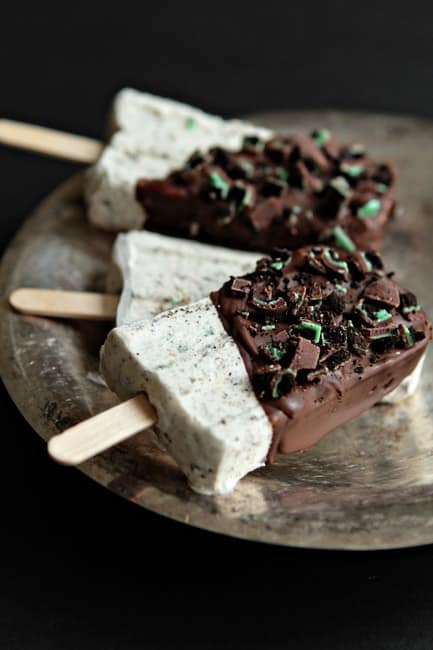 I wanted to take the chill factor one step further and froze this base recipe to create incredibly delicious popsicles with a soft, creamy texture and loads of mint chocolate flavor. If you're curious as to how it turned out, head over to GoodLife Eats where I'm guest posting the recipe.
[pinit]

Mint Chocolate No Bake Cheesecake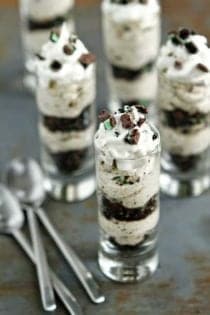 Ingredients:
1 (8 ounce) package cream cheese, softened
3 tablespoons granulated sugar
1/2 teaspoon pure vanilla extract
1/8 teaspoon pure peppermint extract
1 (8 ounce) tub frozen whipped topping, thawed
12 Andes Creme de Menthe Cookies, finely chopped (see note below)
Directions:
1. In a large bowl, with an electric mixer, beat the cream cheese and sugar on medium-high speed until smooth and creamy, about 3 minutes. Add in the extracts and mix until well combined, scraping down the sides of the bowl as needed. Using a rubber spatula, fold in the whipped topping until until it is fully incorporated into the cream cheese mixture. Fold in mint chocolate cookies.
2. Spoon the filling into a pastry bag or large zip top bag. Snip enough of the end off the bag to allow you pipe the mixture into your desired serving glasses. I alternated layers of the cookies and cream cheese mixture with chopped cookies.
3. If desired, garnish with additional whipped topping and chopped cookies.
Notes:
- If you cannot find the Andes Creme de Menthe Cookies, feel free to substitute Mint Oreos.
- I have not attempted this recipe with a substitute for the frozen whipped topping (Cool Whip).
- - Mini Cordial Glasses are from Pier 1 Imports, the spoons are from Ikea.
- Using the Mini Cordial Glasses seen above will yield 8-10 servings.
Source: My Baking Addiction
All images and text ©
Follow Jamie on Instagram. We love to see what you're baking from MBA! Be sure to tag @jamiemba and use the hashtag #mbarecipes!