[pinit]
It's no mystery that I love to bake, and I bake often. If you've followed MBA for any length of time, you know that I have teamed up with Truvia to create a few recipes using their Baking Blend. Using Truvia Baking Blend in everyday baking has allowed me to cut some calories in my diet, without having to cut out my weekly baking ritual. It's also allowed me to provide my readers with more diet friendly recipes – totally a good thing, right?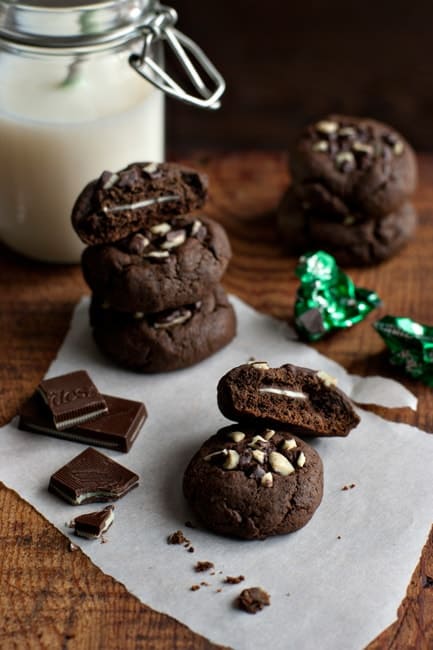 I had also wanted to try mixing Truvia Baking Blend with molasses to see how it works as a substitute for brown sugar. The results were pretty fantastic; richly flavored and beautifully textured little chocolate mint cookies. And I'll forewarn you that I've been on quite the Mint-Chocolate kick in recent days – so, prepare yourselves.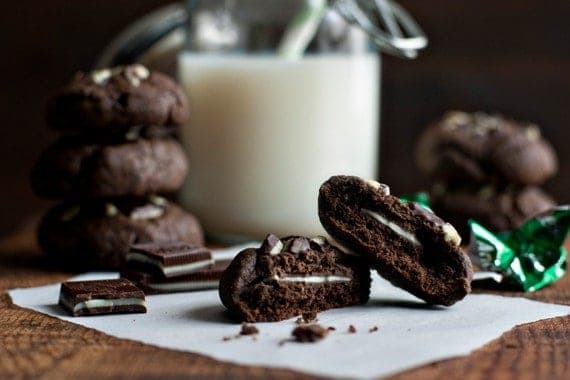 These cookies are intensely chocolatey with a slight mocha flavor from the espresso powder. That paired with the cool mint of the candies makes these a delectable mint mocha treat. And let's face it, anything stuffed with a little piece of candy has to be amazing, right?
While the mint green is perfect for St. Patrick's Day, these cookies are completely addictive any day of the year. Don't wait for a holiday to bake some up. A random Monday will work just fine.

Crème de Menthe Stuffed Chocolate Cookies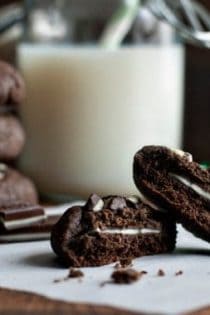 Ingredients:
½ cup of Truvia Baking Blend (see note below for sugar substitution)
1 1/2 teaspoon molasses
1 1/4 cup all-purpose flour
1/4 cup plus 2 tablespoons unsweetened cocoa powder
1/2 teaspoon baking soda
1 teaspoon instant espresso powder
1/2 teaspoon salt
1 stick (1/2 cup) unsalted butter, softened
1 teaspoon pure vanilla extract
1 large egg
12 Andes Mints, broken in half
1/4 cup of chopped Andes Mints or Crème de Menthe baking chips
Directions:
1. In a small bowl, mix together Truvia Baking Blend and molasses with a fork until well blended. Set aside.
2. In medium bowl, combine flour, cocoa powder, baking soda, espresso powder and salt; mix well.
3. In the bowl of a stand mixer fitted with the paddle attachment, or in a large bowl with an electric mixer, beat together Truvia Baking Blend mixture and butter until light and fluffy. Add vanilla and egg; beat well. With the mixer on low, gently add the flour mixture and mix until blended.
4. Wrap dough in plastic wrap and refrigerate for 30 minutes.
5. Preheat oven to 375°F. Line baking sheets with parchment paper; set aside.
6. To form each cookie, take about 1 Tablespoon of dough and form it around 1 half of an Andes mint; creating a thick round disc. Place formed cookies 2 inches apart on prepared baking sheets.
7. Using your fingers, gently press a teaspoon of chopped mints or baking chips into the top of each cookie.
8. Bake cookies for 7 to 10 minutes or until set and slightly cracked. Cool cookies for 5 minutes on baking sheet and then remove to wire racks to cool completely.
Notes:
- Did you know that you could make your own 'brown' Truvia Baking Blend by mixing it with molasses? When mixing Truvia baking blend with molasses, keep mixing with fork until mixture is completely blended and no chunks of molasses remain.
- Want to use granulated sugar in place of the Truvia? Simply substitute 1 cup granulated sugar in place of the Truvia and double the molasses to equal 1 tablespoon.
- Need more cookies? This recipe can easily be doubled.
All images and text ©
Follow Jamie on Instagram. We love to see what you're baking from MBA! Be sure to tag @jamiemba and use the hashtag #mbarecipes!
Disclosure: My Baking Addiction has teamed up with Truvia to develop recipes using Truvia® Baking Blend. This is a sponsored post written as part of that program. All opinions about Truvia Baking Blend are my own.