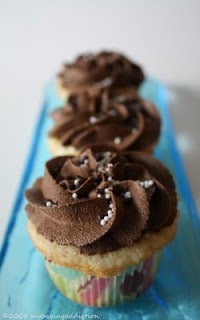 I was sent a cake recipe via email from a friend. She proclaimed this to be better than Dorie Greenspan's Perfect Party Cake, which was my current fave. This is a basic yellow cake from the cookbook, Baking at Home with The Culinary Institute of America. Since this friend is such a tough critic, I had to make this cake the following day. I decided to do cupcakes…just because I like cupcakes. My original plan was to inject the cupcakes with vanilla buttercream and top with chocolate buttercream; however, that plan went awry because I dyed the entire batch of frosting brown. Due to this mishap, I decided to add in a bit of strong, leftover coffee to give the frosting a mocha flavor. From past experience, I have realized that if I make chocolate buttercream with cocoa powder, I have to dye the frosting to make it aesthetically pleasing because if I don't, the end result is an unappetizing, murky shade of gray. I used Wilton Gel Dye in brown and let me tell ya, it took a lot of dye to reach the shade of brown shown in the pictures. I think I may need to research another brown gel dye, but if any of you lovely bloggers know of a good one, let me know! Okay enough with the dye and now to the cake…it was delicious!! This is a real winner in my book and definitely rivals the Perfect Party Cake.
Here is the Buttercream Dream Frosting Recipe Adapted from the one on Em's site:
Buttercream Dream Icing
Ingredients
1 stick salted butter – room temperature
1 stick unsalted butter – room temperature
1 cup shortening
1 tablespoon Vanilla extract
2 pounds confectioner's sugar (powdered sugar, 10x)
4-6 tablespoons very cold milk mixed with cooled strong coffee
3 Tablespoons Hershey's Special Dark Cocoa Powder
Gel Dye in desired color

Directions
Cream the butter and shortening in the bowl of an electric or stand mixer. Add the vanilla extract and combine well. Begin adding in the sugar and cocoa powder, mixing thoroughly after each addition. After all of the sugar has been added and mixed thoroughly, begin adding the very cold milk… one tablespoon at a time, combining very well after each addition (mixer on medium-high to high speed) until you reach the desired consistency. Add gel dye and mix thoroughly until you reach the desired color.