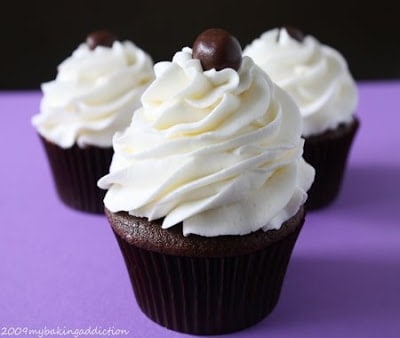 While browsing the gourmet food section of a local store, I came across Starbucks Milk Chocolate Covered Coffee beans. I threw them into my basket with thoughts of mocha goodness on my brain…although I am not a fan of chocolate covered coffee beans; too gritty in my mouth!I figured if I did not use them I would send them to work with the boyfriend for a mid-day perk up. However, I decided to browse foodgawker and found a delectable cupcake recipe on the blog, One Ordinary Day. I took her recipe, added a couple of ingredients and the results were amazing! For the icing I used my favorite buttercream icing that I have posted several times because it is just that good! The little coffee beans were the perfect accessory to an already delicious looking cupcake. Be sure to check out the original recipe because she also posted some delightful homemade cupcake liners that made me swoon!
Note: For those coffee haters out there, these are not overly coffee flavored. The coffee blends harmoniously to intensify the rich chocolate flavor.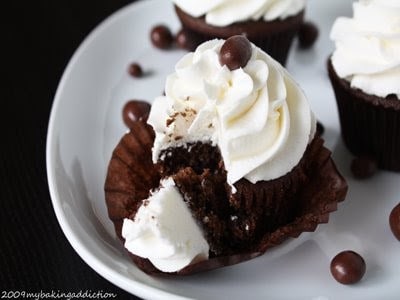 Mocha Cupcakes
Adapted from One Ordinary Day
Ingredients
1-1/3 cups all-purpose flour
1/3 cup unsweetened cocoa powder
1 tsp baking powder
1/2 tsp baking soda
1/4 tsp salt
1/2 cup whole milk
1/2 cup strong brewed coffee, at room temperature
1 tsp pure vanilla extract
1/2 cup (1 stick) unsalted butter, at room temperature
1/2 cup granulated sugar
1/2 cup firmly packed light brown sugar
1 large egg, at room temp
3/4 cup semi sweet chocolate chips
Method
1. Preheat to 350°F. Line cupcake pan with liners.
2. Sift together the flour, cocoa powder, baking powder, baking soda, and salt. In a measuring cup, combine the milk, brewed coffee and vanilla.
3. In a stand mixer, using a flat beater on medium-high speed, beat the butter and sugars together until light and fluffy, about 2-3 minutes. Add the egg and beat until combined. Slowly add the flour mixture, alternating with the coffee mixture, ending with the flour mixture. Stir in chocolate chips.
4. Fill cupcake liners about 2/3 full. Bake for about 17-20 minutes or until a toothpick inserted in the center of a cupcake comes out clean. Let cool before frosting cupcakes.
Buttercream Dream
From: The Repressed Pastry Chef
Ingredients
1 stick salted butter – room temperature
1 stick unsalted butter – room temperature
1 cup shortening
1 tablespoon Clear Vanilla extract
2 pounds confectioner's sugar (powdered sugar, 10x)
4-6 tablespoons very cold milk
Directions
Cream the butter and shortening in the bowl of an electric or stand mixer. Add the clear vanilla extract and combine well. Begin adding in the sugar and mixing thoroughly after each addition. After all of the sugar has been added and mixed thoroughly, begin adding the very cold milk… one tablespoon at a time, combining very well after each addition (mixer on medium-high to high speed) until you reach the desired consistency.
Have a great day and thanks so much for stopping by my blog! Stay tuned for a fun ice cream related giveaway!