I tasted Nutella for the first time last year and I have not been without a jar since. This chocolate hazelnut spread is loved by many bakers and adds a delicious complexity to baked goods that chocolate alone cannot accomplish. Whether you smear it on toast, dip fresh fruit it, or drizzle it on ice cream…Nutella is a pretty fabulous accompaniment to many different foods.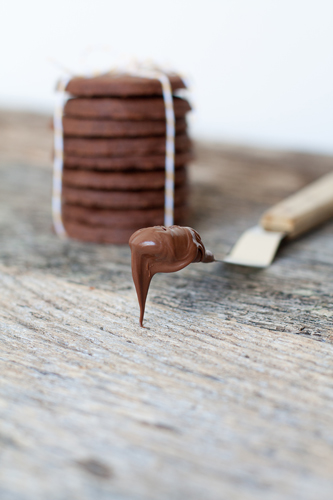 I got inspiration for Mocha Shortbread while sipping a Mocha Frappuccino from Starbucks. Although I am not a huge chocolate lover or a regular coffee drinker, there is something about this pairing that makes me a very happy girl. The combination of chocolate and coffee combined very well in these shortbread cookies. The coffee flavor was quite subtle, so feel free to amp up the amount of espresso powder to kick up the flavor a notch. These cookies are buttery and crumbly just how how I like my shortbread. If you are not a Nutella fan (are there any out there) the cookies are simply delish on their own. If you are a Nutella fan, I highly suggest you spread this chocolatey goodness on these cookies, I promise you won't be sorry. I hope you have a fantastic weekend and thanks so much for stopping by MBA.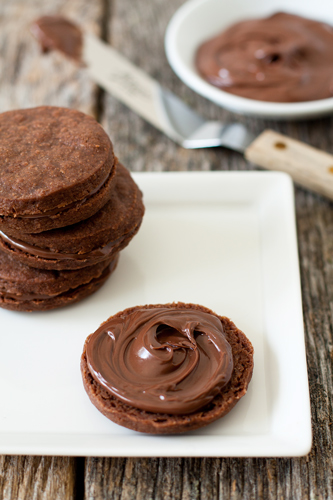 Mocha Shortbread with Nutella
Ingredients
1 cup unsalted butter, softened
1/2 cup packed brown sugar
1/4 cup sugar
1 teaspoon vanilla extract
2 teaspoons instant espresso granules
1 ¾ cups all purpose flour
¼ cup cocoa powder
1/4 teaspoon kosher salt
If desired; Hazelnut Spread (Nutella) to sandwich cookies

Directions
1. In a mixing bowl, cream butter, sugars, vanilla and instant espresso granules.
2. In a medium bowl, sift together the flour, cocoa powder and salt
3. Gradually mix the flour mixture into the butter mixture until fully incorporated
4. Cover bowl and refrigerate for one hour.
5. On a lightly floured surface, roll out to ¼ inch thickness. Cut with floured 2-in. to 3-in. cookie cutters. Place cookies 2 inches apart on parchment lined baking sheets.
6. Bake at 300 degrees F for 20 minutes or until set. Remove to wire racks to cool.
7. Once cookies are completely cooled, sandwich them together with your desired amount of Hazelnut Spread (Nutella).

*Note: When not working with the Shortbread dough, place it back into the refrigerator; this will enable an easier rolling process.

With the abundance of fresh fruit recipes coming out of my kitchen, I thought I would take a break from berries and make a Mocha Shortbread Cookie recipe. Once these lovelies came of of the oven, they were begging for a smear of Nutella.