Molasses Crinkles couldn't be more holiday perfect. Sweet, spicy, and just the right amount of chewy, it's no wonder they're classic.
This is a sponsored post on behalf of McCormick. All opinions are my own.
You know what one of the coolest things about creating a little family of your own is? Getting to pick and choose the traditions from both sides of the family to continue.
Eric always says that one of the things he loves about me is my passion for baking. It brings to mind his childhood and his grandmother who baked up delicious treats all year long, but especially at Christmas.
We even have a fantastic cookbook of family recipes, put together by his aunt. I'm not kidding when I say everything is documented, right down to what was served at the Christmas buffet every year.
I totally get a kick out of going through through the cookbook – especially the notes in the margins. Let's just say one year, someone wasn't feeling the chocolate pecan tart – there's just a one word note next to it in the buffet list – no. Ha!
Eric and I've been talking more and more about the traditions we want to make a priority every year as we create lasting memories for Elle. We both agree, much of it will revolve around our favorite recipes, like my Nana's pumpkin roll recipe, and these Molasses Crinkle Cookies.
Straight from the pages of Grandma's cookbook, these cookies are 100% classic. Chewy, spicy, and at home on every cookie tray. Now that's what I'm talking about! Another favorite for the holidays are these gingerbread cookies.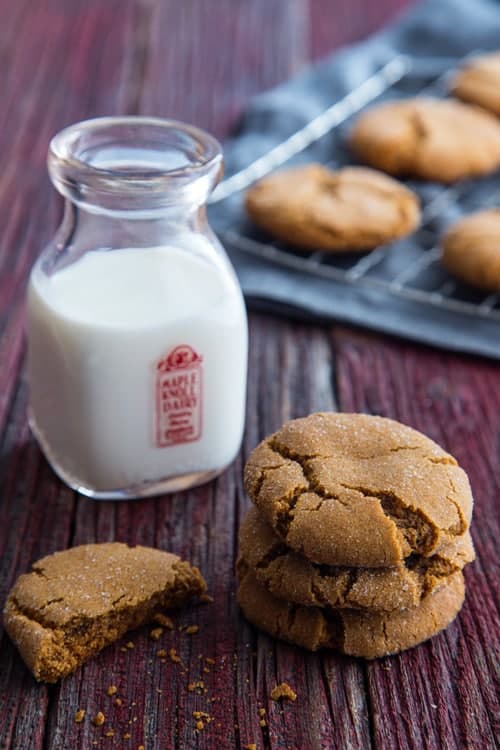 Biting into one of these perfect cookies, a cup of my favorite tea nearby, it almost made me okay that we've already had our first snow of the season (on Halloween!), and I'm definitely ready to settle in and bake another batch.
I often find myself baking with classic McCormick spices; cinnamon, nutmeg, pure vanilla extract – these are the flavors that basically make up my life. I mean, if someone were to make me a custom perfume, I'm pretty sure that's exactly what it would smell like.
And really, it's no wonder. McCormick has been around for 125 years – more than a century! They've played a huge roll in the kitchens of at least four generations of bakers and cooks the world over.
McCormick's Flavor of Together program is a yearlong initiative to share 1.25 million stories – stories of how flavor unites and defines people across the globe. For every story shared on any of McCormick's brand websites or social channels, McCormick will donate $1, up to $1.25 million, to United Way to help feed those in need.
Share your story to help those in need – it couldn't be simpler. Submit your story at FlavorOfTogether.com, or on social media using hashtag #flavorstory. You'll also find globally inspired recipes, videos, and more. It's one truly cool social media experiment. I can't wait to read your story.
Oh, and I hope you'll share these Molasses Crinkle Cookies as part of a new family tradition – because whoa, are they amazing!
Disclosure: This post is sponsored by McCormick; however, the views and opinions expressed on My Baking Addiction are my own, and based upon my experiences with McCormick products. Thank you for supporting McCormick and the brands that continue to make My Baking Addiction possible.