Traditional Monkey Bread gets a mini makeover when it's baked in muffin cups and drizzled with cream cheese icing. They're perfect for breakfast or Easter brunch.
Monkey Bread always takes me back to 7th grade. Rocking big bangs and more Rave hairspray than I care to admit, I had my mind blown when my home economics teacher instructed us to cut up a can of Pillsbury biscuit dough to make dessert.
Back then, all I knew about baking came from my Nana, and since Monkey Bread never graced her table, I was pretty certain that dough bundt cake would be a flop. That was, until I realized that all those little pieces of canned biscuit dough would be held together with a combination of brown sugar and butter. How can that possibly be a bad thing? It can't. Trust me.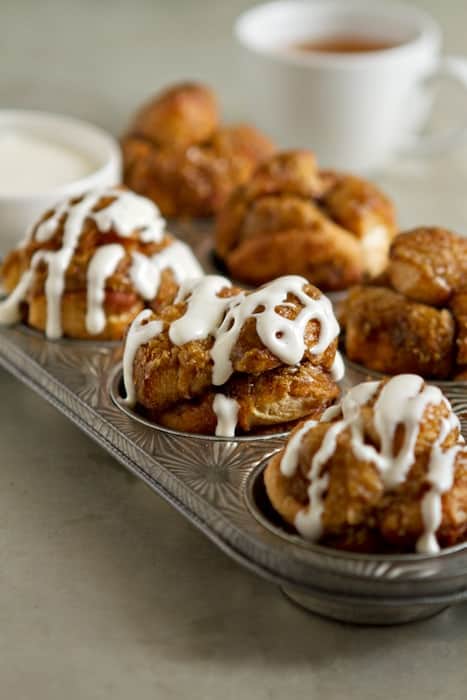 From the moment the bundt pan came out of our janky home ec oven, I was hooked. Like seriously hooked. I'm talking baking-Monkey-Bread-on-a-weekly-basis hooked. And can you blame me? Little bite sized, pluckable dough balls rolled in cinnamon and sugar, topped with caramel-y goodness.
I'm fairly certain a large percentage of the cavities I suffered through during that 7th grade year can be attributed to Monkey Bread. Well, that, Fruit Roll-Ups and countless feet of Hubba Bubba Bubble Tape. I also seem to remember a few suggestions that I go ahead and invest in Pillsbury stock, since I seemed to be single-handedly boosting their sales with every grocery trip my mom made.
Monkey Bread Muffins have the same great taste as their traditional counterpart, but they're perfectly portioned for on-the-go eating, and there's built in portion control. Which I totally need when it comes to this nostalgic treat!
You can make your own biscuit dough, but I personally prefer the consistency and quickness Pillsbury biscuit dough provides. So long as I've got a few cans in the fridge, I'm only a few minutes away from one of my favorite treats. Making them in muffin-y form just makes them even more irresistible.
It's so easy to make your Easter celebration a little more special with simple and fun Monkey Bread Muffins. Give them a little Spring flair with a drizzle of cream cheese icing and festive, pastel sugar. If you're feeling particularly Easter-ish, you could even tuck egg shaped chocolates into the dough just as these come out of the oven. Especially those new white chocolate mini eggs. I'm just sayin'.
Monkey Bread Muffins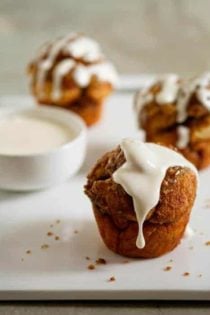 Ingredients:
1/4 cup granulated sugar
1 1/2 teaspoons ground cinnamon
1 can Pillsbury® Grands!® Flaky Layers refrigerated biscuits
1/4 cup unsalted butter
2/3 cup packed dark brown sugar
2 teaspoons water
1/2 teaspoon pure vanilla extract
For the Cream Cheese Icing
4 ounces cream cheese, at room temperature
1 cup confectioners' sugar, sifted
1/2 teaspoon pure vanilla extract
2-3 tablespoons milk
Directions:
1. Preheat oven to 375° F. Spray 8 muffin wells with nonstick cooking spray or line them with paper liners.
2. In a medium bowl, mix together the sugar and cinnamon until well combined. Separate dough into 8 biscuits; cut each biscuit into 9 pieces. Roll biscuit pieces in sugar-cinnamon mixture. Place 9 biscuit pieces in each muffin well.
3. In a medium saucepan over medium heat, heat butter, brown sugar and water to boiling, stirring constantly. Cook and stir about 2 minutes or until brown sugar is completely dissolved. Remove saucepan from heat and stir in vanilla extract.
4. Carefully spoon the caramel over the biscuit pieces in each muffin well. Bake in preheated oven for 10-12 minutes.
5. Once removed from the oven, carefully use the back of a spoon to gently push the biscuit pieces back into the muffin wells. This will give them a more definitive muffin shape. Allow muffins to cool in the pan for about 10 minutes before removing to a serving plate. While muffins are cooling, prepare the cream cheese icing.
6. In a medium bowl with an electric mixer, beat cream cheese and confectioners' sugar until smooth. Add in vanilla and 1 tablespoon of milk, beating until well combined. Gradually add more milk, one teaspoon at a time until desired consistency is reached. Drizzle icing over warm muffins. Serve immediately.
Monkey Bread Muffins recipe slightly adapted from Pillsbury.
All images and text ©
Follow Jamie on Instagram. We love to see what you're baking from MBA! Be sure to tag @jamiemba and use the hashtag #mbarecipes!
This post is part of a sponsored relationship between My Baking Addiction and Pillsbury. All opinions expressed are solely the opinions of Jamie Lothridge of My Baking Addiction.