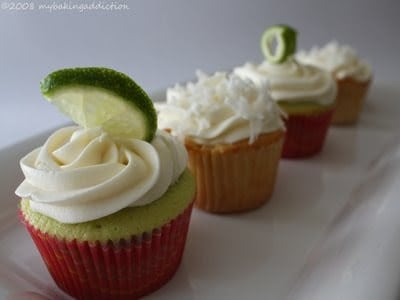 With fall quickly approaching, I have had the desire to start making things like pumpkin rolls, apple pie and carrot cake. However, I decided to fight the urge a little while longer and make some summer inspired cupcakes. I saw a recipe for Key Lime Cupcakes on the Bon Appétit website and knew I had to make them. These whipped together in a snap and came out very cute..in a lime green kind of way. At first I was against coloring the batter, but then thought what the hell and went through with it. I thought the pink striped cupcake liners were the perfect accompaniment to these green beauties. The texture of the cake was nice and the awesome Key Lime flavor was a truly delicious! I also wanted to try making some Pina Colade-esque cupcakes so I followed the Ina Garten recipe I posted about here and made a few modifications.
Here is what I did:
subbed coconut extract for the almond extract

added a couple teaspoons of both Malibu Coconut Rum and Malibu Pineapple Rum

added 3/4 cup of fresh pineapple chopped very small
This made for a very moist and scrumptious cupcake, I had to let them cool in the cupcake tin for a little over 25 minutes before putting them on a cooling rack, the centers dipped in a bit, but that was easily covered by the cream cheese frosting! All in all, both recipes were thoroughly enjoyed by those who ate them…
Embrace summer…it's almost gone!
Enjoy!