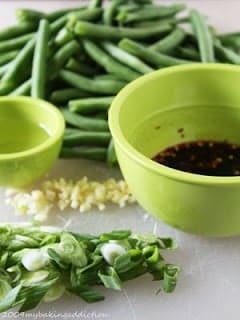 Green beans…yes my friends you read correctly…green beans. I don't think I have ever posted a side dish on my blog, but this recipe is a must post. I know these are not a sweet treat slathered in whipped cream or frosting, but they are just as good…well, in a savory way, but rest assured, they still contain sugar! I came across this amazing recipe last summer and I have made them countless times since then, but much to my dismay I lost the recipe. I knew it had originated online, but after many search attempts I came up empty-handed. On Sunday I had planned to make Firecracker Salmon and I knew these green beans would be the perfect side, so I hit up Google and once again…nothing.
I knew the original recipe contained white vinegar; therefore, it was easy for me to weed through the other recipes. I even contacted my friend, Em to see if she still had the recipe since I had emailed it to her months back. I gave up…then about two hours later the name of the blog came to me! I flipped open the laptop like a crazy person and there it was the best green recipe ever! These amazing green beans paired perfectly with the Firecracker Salmon and Fried Rice and I was one happy gal. Oh…one more thing…make these green beans!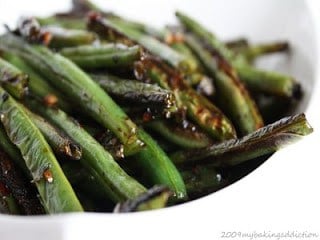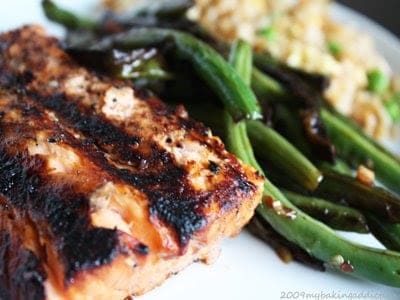 Spicy Green Beans
Slightly Adapted from the Paupered Chef
Click here for Nick's picture tutorial of the process.
2 tablespoons soy sauce
1 tablespoon white vinegar
2 teaspoons sugar
1/2 teaspoon red pepper flakes
2 tablespoons canola oil
3/4 pound green beans
4 scallions
3 medium cloves of garlic
1 teaspoon of Sriracha (more or less depending on your tolerance level) I use more because I like them spicy!
*Note-Make sure everything is prepped and ready to go before tossing anything in the pan. It will take just a few minutes to cook everything. It will go by quickly.
1 .Combine the soy sauce, white vinegar, sugar, Sriracha and red pepper flakes in a bowl and whisk until combined.
2. Mince the garlic, and cut the scallions however you see fit. I like the diagonal cut, but that's just me.
3. Place the iron skillet over high heat for at least 5 minutes.
4. When everything is chopped and ready, toss in the oil, swirl until it coats the bottom of the skillet, and add the green beans. Cook until they are tender, about 4 minutes, stirring every 30 seconds or so. It will look like you're murdering them, but be patient. It will work.
5. Dump in those neatly cut scallions and cook until they are gnarly. About another 4 minutes, stirring every 30 seconds.
6. Add the garlic and cook just until it becomes fragrant, about 5 to 10 seconds. Then add the soy sauce mixture. Cook for another 20 seconds or so, and then turn off the heat, and plate.