If you read MBA on a consistent basis, you may remember a review that I wrote on 360 Bakeware. I was introduced to the brand last winter and fell completely head-over-heels in love with it from the minute I opened the box.
I've been using the 360 Bakeware line exclusively in my kitchen for almost an entire year. And I must say, I am just as impressed and in love with it today as I was last December.
360 Bakeware is incredibly solid. Its multi-ply construction allows for consistent, even heating and better heat conductivity than any other bakeware that I have ever used. And trust me, I've used every kind of bakeware you can imagine. I've even gone as far as donating most of my other bakeware to make room for my ever-expanding collection of 360 Bakeware.
Speaking of my expanding collection, I am incredibly excited to introduce you to the newest addition to the 360 Bakeware line – an exclusive, limited edition My Baking Addiction Cookie Sheet, just in time for holiday baking! When I was approached by 360 Bakeware to collaborate on this project, I immediately said yes. 360 Bakeware is a brand that I simply adore and wholeheartedly stand behind.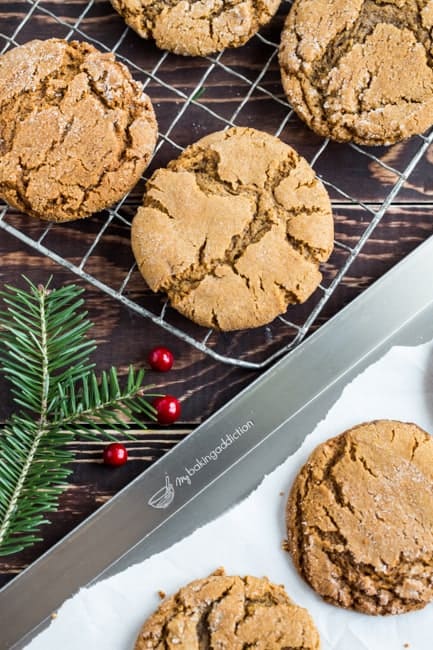 One of my most loved and used pieces of kitchen equipment is now available for purchase complete with the My Baking Addiction logo. Which, in my opinion, is the perfect gift for anyone that loves to bake!
The My Baking Addiction cookie sheet won't warp or bend. It has a safe cooking surface (no coating) and a lifetime warranty. This stainless steel cookie sheet is substantially designed with multiple layers that conduct heat evenly and efficiently, so you'll get perfectly baked cookies every time. The 14″ x 17″ area is perfect for lots of small peanut butter blossoms or a few giant chocolate chip cookies. It's also great for warming up holiday hors d'oeuvres and rolls for your next party or family dinner.
Get your exclusive, limited edition My Baking Addiction Cookie Sheet while supplies last.
Disclosure: My Baking Addiction has teamed up with 360 Bakeware because we personally believe this is the best bakeware on the market. This is a sponsored post written as part of that program. All opinions about 360 Bakeware are my own.