Caramel Peanut Topped Brownie Cake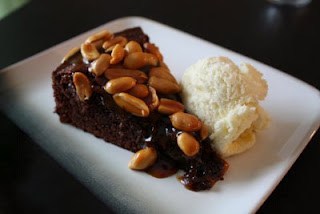 I ordered Dorie Greenspan's book, Baking: From My Home to Yours. This book is actually what compelled me to create this blog, well, that and my mild photography obsession.
This recipe involves a brownie cake base topped with a caramel peanut sauce. In one word, I would describe this as rich… really, really rich! I think the outcome does have beautiful presentation and would be very well-received by any peanut loving choc-o-holic!
I am sure I will post many many more recipe adventures from this book!
[pinit]
3 Responses to "Caramel Peanut Topped Brownie Cake"