My Very First Daring Bakers Post…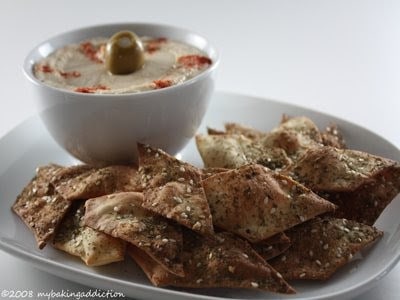 I joined the Daring Bakers with hopes of pushing myself to create things outside of my normal repertoire. Well this challenge definitely did that, I never thought I would make my own crackers…actually the thought probably never would have crossed my mind. Honestly, I was a little disappointed when I read what my first recipe would be…I was hoping for some delicious cake or pastry with exotic ingredients, but instead it was crackers. Momentarily the thought of skipping this recipe crossed my mind; however, I quickly came to my senses after reading the "rules" for this challenge. The great thing about this recipe was that it left a lot to the imagination, I could create my own toppings as well as dip, as long as they were vegan. A few different concoctions crossed my mind, but I finally decided on the savory route and topped my Lavash Crackers with Za'atar, which is a blend of Thyme, sesame seeds, salt, and sumac. I also added a little Kosher Salt, a dash of Cayenne and garlic powder. The key to these crackers was rolling them out paper thin…th
is is what the dough looked like after rolled, but before cutting.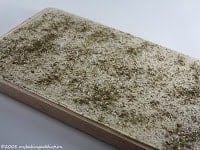 It took a little work to reach the thinness that is pictured, but I kept rolling and it finally worked out perfectly. After sprinkling the dough with the spices, I lightly rolled the dough with my rolling pin to push the spices into the dough. I then used a pizza cutter and sliced the dough on a diagonal, forming diamond shaped crackers. I baked the crackers at 350 for about 13 minutes, watching them carefully the last 5 minutes. The first batch I made I baked for only 9 minutes, they came out chewy, sort of reminiscent of pita bread. We preferred the outcome of the longer baking time and crispier cracker.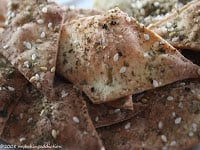 I definitely wanted to stay with the Middle Eastern flavors of the Za'atar, so I made hummus. The recipe I used can be found by clicking here. I used soaked garbanzo beans instead of canned, but followed the rest of the directions as written. The combination of flavors made this snack absolutely amazing, the boyfriend talked about these all night while watching football. He actually asked me to make more at 8:30 in the evening, after he inhaled the other batch…seems he prefers these to our much loved Stacy's Pita Chips. I will definitely be making these again and again, just not at 8:30 at night. I will be interested to hear from other Daring Bakers how long these stay crispy in an airtight container, because I really think I would double the batch next time. I really am very thrilled to join the Daring Bakers, I think that being a part of this group will force me to think out my comfort zone.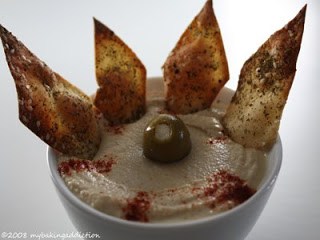 This post may contain affiliate links. We are a participant in the Amazon Services LLC Associates Program, an affiliate advertising program designed to provide a means for us to earn fees by linking to Amazon.com and affiliated sites.