Hey MBA readers! I hope you are having a great start to your week. I'm still kind of getting back into the swing of things after a little hiatus, so the lovely Tracy of Sugarcrafter is stepping in for me today with a delicious recipe for Neopolitan Cupcakes. Thanks so much for being here, Tracy!
Hi there! I'm Tracy from Sugarcrafter, and I'm very happy to be guest posting for Jamie today. Jamie is one of my absolute favorite baking bloggers, and I am constantly in awe of not only the amazing treats she's always baking up in her kitchen, but her gorgeous photography as well. When I started thinking about what to make, my mind immediately wandered to cupcakes…and since I was driving home after a trip to Target and had just been inundated with Valentine's Day candy displays, I had pink on the brain. It wasn't long before I combined the two thoughts and started thinking about desserts that involve pink, and ta-da! I had my cupcake idea – Neapolitan cupcakes with matching Neapolitan frosting.
I used a fluffy white cake mix as the base for these cupcakes, and then I split the batter into thirds. I left one third of the batter white, and then used cocoa powder and strawberry jam to make the other two thirds chocolate and strawberry respectively. The frosting is made in the same manner – and while I'm usually all over anything chocolate, I have to say that I couldn't stop licking the beaters after mixing up the strawberry frosting. There's nothing quite like homemade strawberry jam!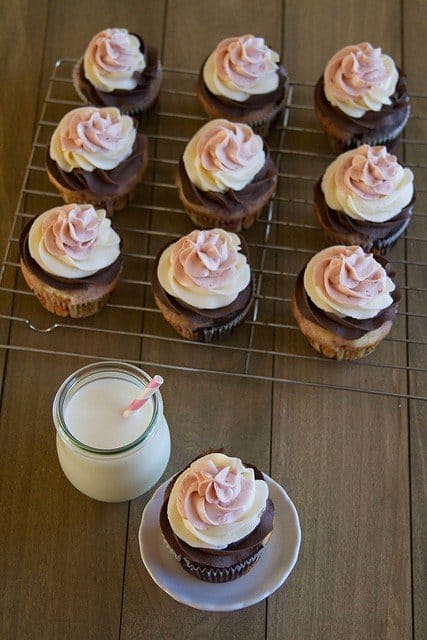 I think these cupcakes would be lovely for Valentine's Day, but since they're not overly pink, I think they're eye-catching enough to fit perfectly into any party or special occasion. I hope you enjoy them as much as we did!
[pinit]

Neapolitan Cupcakes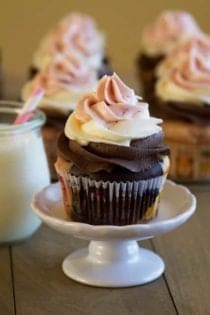 Ingredients:
For the Cupcakes
2 1/4 cups cake flour
1 Tablespoon baking powder
1/4 teaspoon salt
4 egg whites
1 1/4 cups milk
1 1/2 cups granulated sugar
1 stick butter, at room temperature
2 teaspoons vanilla extract
1/4 cup cocoa powder
1/4 cup strawberry jam
For the Frosting
2 sticks butter, softened
6 cups powdered sugar
2 teaspoon vanilla extract
2 Tablespoon heavy cream
2 Tablespoon cocoa powder
1 Tablespoon strawberry jam
Directions:
1. To make the cupcakes, preheat the oven to 350 degrees and line two cupcake pans with cupcake liners.
2. In a medium bowl, whisk together the flour, baking powder, and salt.
3. In another medium bowl, whisk together the egg whites and milk.
4. In a large bowl, beat the butter and sugar together until light and crumbly. Beat in the vanilla extract.
5. Add both the flour and egg mixtures to the butter mixture, half at a time, beating until well-blended.
6. Split the batter into thirds. Set aside one third of the mixture. For the second, beat in the cocoa powder. For the third, beat in the jam.
7. Drop some of each of the three colored batters into the cupcake liners. Swirl with a knife to create a marbled effect, if desired.
8. Bake 18-20 minutes or until a toothpick inserted in the center comes out clean. Cool on a wire rack.
9. To make the frostings, beat the butter until pale. Beat in the vanilla extract, then gradually beat in the powdered sugar and heavy cream, half at a time. Split into thirds and set aside one third of the frosting. Add cocoa powder to the second, and strawberry jam to the third. Frost cupcakes as desired.
Notes:
- To make the jam easier to combine with the batter and frosting, warm it in the microwave in a small bowl for 10-15 seconds.
- Because the jam can make the pink cake batter a little more runny than the other two batters, you can always add a little extra flour to compensate for the extra liquid added. Along the same lines, you can add a little extra powdered sugar to the pink frosting as well.
All images and text ©
Follow Jamie on Instagram. We love to see what you're baking from MBA! Be sure to tag @jamiemba and use the hashtag #mbarecipes!