As I was cleaning out my pantry the other day, I realized that I had a bag of peanut butter and chocolate swirl chips. I have no idea when or why I bought them, my guess would be I had some grand plan for them that lacked a great deal of follow through. Since they were lurking in the depths of the pantry smashed between a bottle of red wine vinegar and a can of fat free ravioli, I figured it was time to put them to good use. I did a little searching and came across a recipe on allrecipes that looked very familiar, but I could not figure out why.
Then as I was making the dough, it hit me! I made these back in May when I ran out of butter and subbed butter flavored Crisco instead. This time around I followed the recipe which called for all butter and the results definitely surpassed the Crisco version.
These cookies bake up beautifully and stay very fresh for several days when stored in a sealed container. This recipe has a great combination of flavors that is sure to please the Cookie Monster in your life. Seriously, what can be better than oatmeal, peanut butter and chocolate?
Have a great day and thanks so much for stopping by!

Oatmeal Peanut Butter Chip Cookies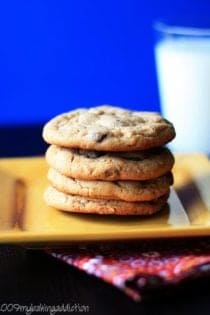 Ingredients:
1/2 cup butter
1/2 cup white sugar
1/3 cup packed brown sugar
1/2 cup peanut butter
1/2 teaspoon vanilla extract (I used Beanilla Vanilla Paste)
1 egg
1 cup all-purpose flour
1 teaspoon baking soda
1/4 teaspoon salt
1/2 cup rolled oats
1 cup peanut butter and chocolate swirl chips (your favorite chocolate chip will be just fine)
Directions:
1. Preheat oven to 350°F (175°C).
2. In a medium bowl, cream together the butter, white sugar and brown sugar until smooth. Stir in the peanut butter, vanilla and egg until well blended.
3. Combine the flour, baking soda and salt; stir into the batter just until moistened. Mix in the oats and chocolate chips until evenly distributed. Drop by tablespoonfuls on to lightly greased cookie sheets.
4. Bake for 10 to 12 minutes in the preheated oven, until the edges start to brown. Cool on cookie sheets for about 5 minutes before transferring to wire racks to cool completely.
Follow Jamie on Instagram. We love to see what you're baking from MBA! Be sure to tag @jamiemba and use the hashtag #mbarecipes!
[pinit]