One-Dish Greek Pizza combines all your favorite Greek flavors into an easy, delectable, one-dish dinner. The crust bakes up thick and hearty, perfect cold-weather food.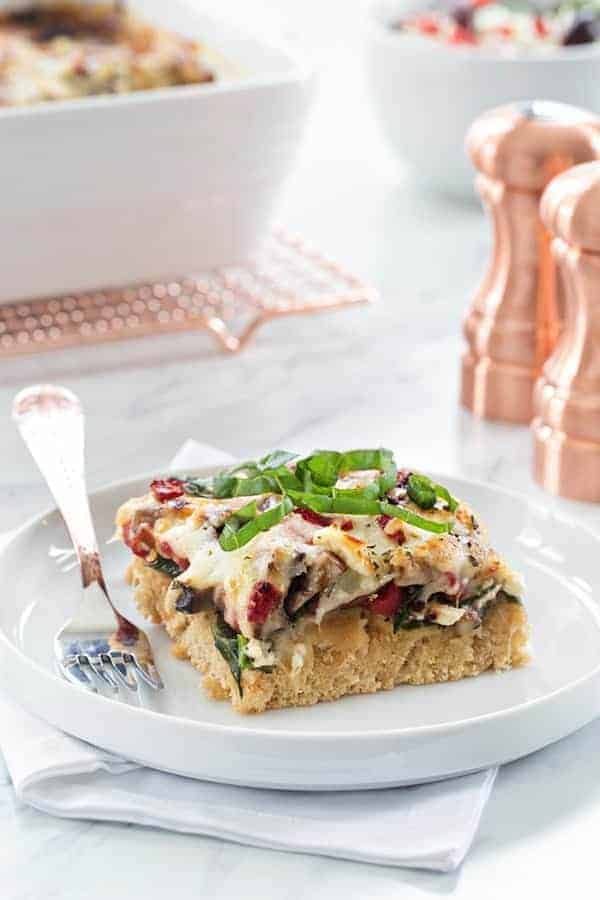 This is a sponsored post on behalf of Fleischmann's® Yeast. Thank you for continuing to support the brands that make My Baking Addiction possible.
Hey friends! Welcome to a new year, and some delicious dinner recipes coming your way.
Last year, Eric and I set out the new year with the intention of upping our dinner game, and we brought you along for the ride. I think it's been pretty successful.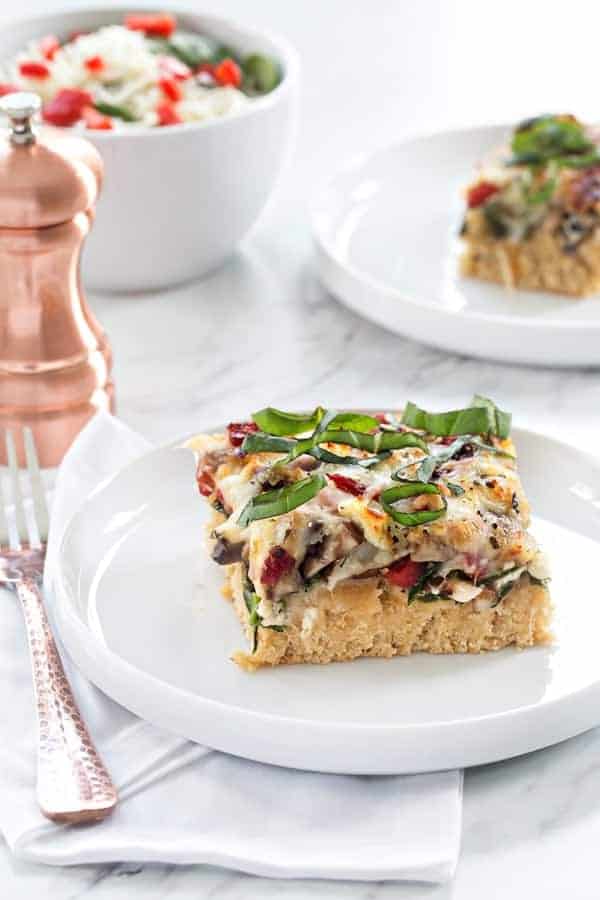 The new year is no reason to slow down a resolution that's working for you – even if it's a year old, so I'm planning out my weekly meals while keeping in mind that I want to share a lot of this success with you too.
Pizza is a family favorite for pretty much anyone, and I do love making my own pizza dough.
If you're new to the world of yeast baking, and want to give it a shot, there's no better recipe to start with than right here. This One Dish Greek Pizza is a riff off the 1-Dish Spinach and Feta Pizza on Fleischmann's® Yeast's own website, and it's rated beginner for a reason.
Making this One-Dish Greek Pizza is amazingly easy. And you'll love the joy presenting your family with a fresh baked, just-from-the-oven pizza gives you.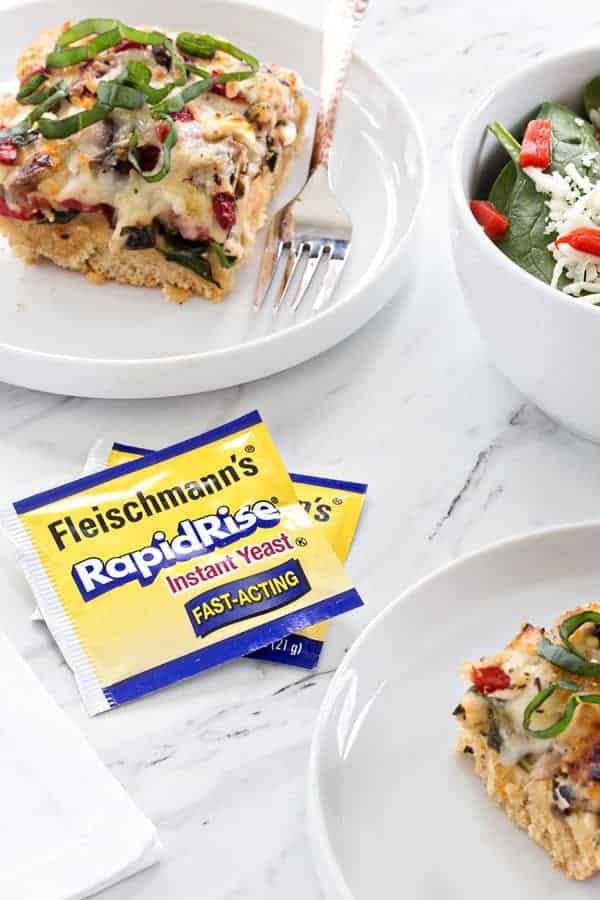 You start with a simple dough of all-purpose and whole wheat flours, sugar, garlic salt, warm milk and olive oil, and Fleischmann's® RapidRise™ Yeast.
I love using this yeast for so many things. There's a flavor you can't replicate in quick breads, and using this RapidRise™ Yeast means you don't even have to give this pizza dough time to rest and rise on its own. It'll do it right in the oven. How's that for awesome?!
When I was in college, I worked at a Mediterranean restaurant. They have a big brick oven in the back, and it was primarily used for making Pita Bread.
But they also made some pretty amazing pizza in that oven. My favorite had feta cheese, roasted red peppers, Kalamata olives, crushed red pepper flakes for a little heat, and fresh basil.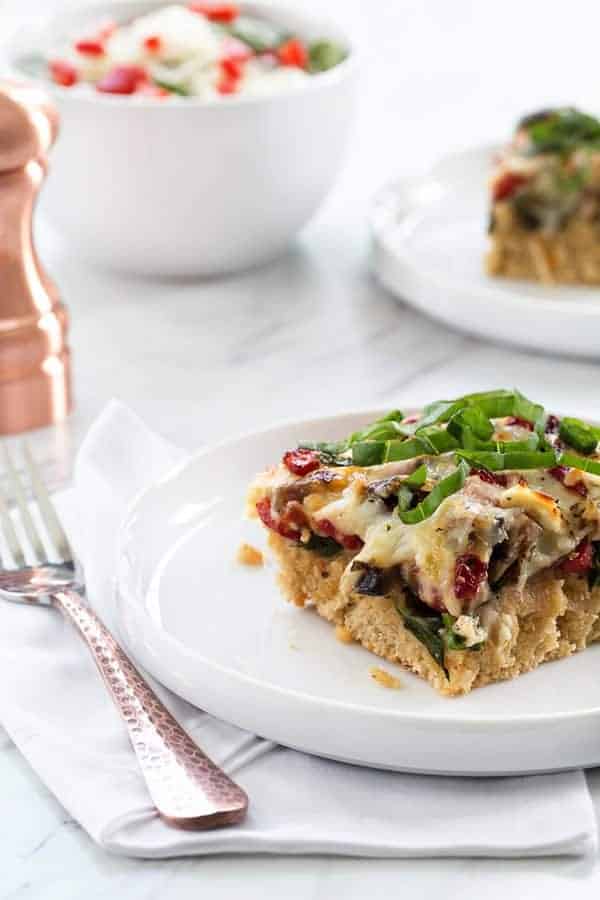 I hadn't thought about that pizza in years, until I found this recipe on the Fleischmann's® Yeast website. And boy, did I get hit with a craving.
Making this One Dish Greek Pizza is probably the easiest pizza I've ever made, and also one of the most flavorful.
Once you've combined the makings of your dough in a baking dish, you'll then sprinkle it with the feta cheese-vegetable combination I outline below, and then sprinkle with more mozzarella and herbs before baking.
One of the coolest things about this recipe is you don't even need to preheat the oven – start with it cold. Fleischmann's® RapidRise™ Yeast does all the heavy lifting, creating a perfect pizza in about 30 minutes. Faster than you can get a pizza delivered!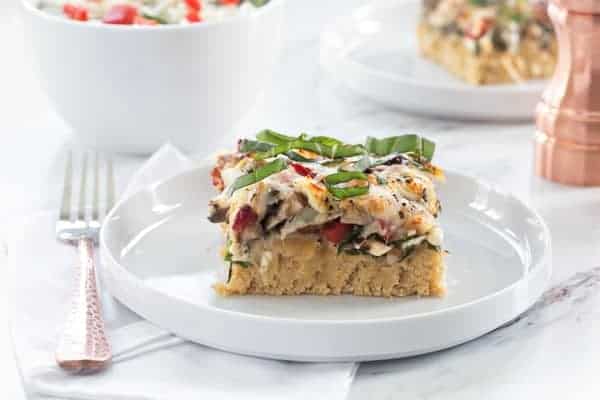 Baking up a delicious homemade pizza for Eric and Elle so I could share some cherished flavors from my college years was a pretty awesome experience, I must say. A lot of memories came flooding back, and we all loved noshing such a quick and easy dinner.
I would even take it a step further and bake a little extra knowing that my family loves to indulge in a delicious pizza once every so often. This One-Dish Greek Pizza recipe is great to share with family and friends, knowing that everyone appreciates a good pizza!