One Very Tiny Cake…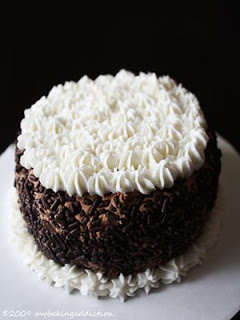 This week, I made cupcakes for the boyfriend's co-workers. I used the Hershey's recipe from the back of the cocoa powder can and topped them with Buttercream Dream frosting. I had a little batter left over, so I spooned it into a 4 inch springform pan and baked until it passed the toothpick test. The boyfriend requested chocolate frosting for his mini cake, but his co-workers wanted vanilla on the cupcakes. I have made the Buttercream Dream frosting numerous times since Em posted it on her blog. Whenever I needed chocolate frosting, I would simply add cocoa powder to taste and some brown gel dye to color. This time I decided to experiment and folded in melted semi-sweet Ghirardelli chocolate into the vanilla Buttercream Dream. This was simply delicious and in my opinion was much more rich and chocolate-y than the cocoa powder version. I removed about 1 1/2 cup of the vanilla frosting and melted a little less than 1/4 cup chocolate chips then basically folded it in to taste. I sliced the mini cake in half, frosted the center with vanilla frosting and then frosted the entire cake in the chocolate version. I pushed chocolate sprinkles into the sides of the cake and voilà…I had one mini cake coated in chocolate frosting! This cake and frosting combination is always a big hit, in fact one of his co-workers ate 6…yes I said 6 cupcakes in one 12 hour work day!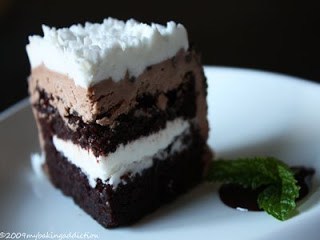 Up Next ANOTHER Chocolate Chip Cookie Recipe!

This post may contain affiliate links. We are a participant in the Amazon Services LLC Associates Program, an affiliate advertising program designed to provide a means for us to earn fees by linking to Amazon.com and affiliated sites.