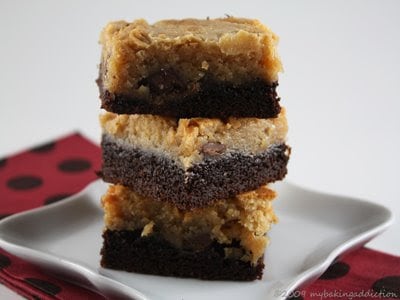 Since it is super close to Valentine's Day, I thought I would tempt you with a butter laden, ultra sweet treat from the queen of butter, Paula Deen. This recipe is a variation of the ultra popular recipe for Ooey Gooey Butter Cakes and is appropriately named, Ooey Gooey Chocolate Peanut Butter Cake. Things have been a little hectic, so I have been gravitating towards easier recipes with minimal prep work. I even added an "easy" label to my sidebar so these simple, delicious recipes are right at your fingertips. I made the pumpkin version of this cake way back in October and it was delicious…so I figured this may be just as delectable. These Ooey Gooey cakes are so easy to assemble and are quite budget friendly. The recipe is comprised of really basic ingredients, including a cake mix. The result of this cake is truly a man pleasing dessert, males in all age categories swooned over this cake and wanted more. Personally, I thought the recipe was a bit sweet and extremely rich, but if you have a peanut butter and chocolate loving man in your life, whip these babies up for the 14th…they make make his heart flutter just a bit!
Ooey Gooey Chocolate Peanut Butter Cakes recipe from foodtv.com

Cake:
1 (18 1/4-ounce) package chocolate cake mix (I used Devil's Food)
1 egg
8 tablespoons butter, melted
Filling:
1 (8-ounce) package cream cheese, softened
1 cup creamy peanut butter
3 eggs
1 teaspoon vanilla
8 tablespoons butter, melted
1 (16-ounce) box powdered sugar
Directions
Preheat oven to 350 degrees F.
Combine the cake mix, egg, and butter and mix well with an electric mixer. Pat the mixture into the bottom of a lightly greased 13 by 9-inch baking pan.
To make the filling: In a large bowl, beat the cream cheese and peanut butter until smooth. Add the eggs, vanilla, and butter, and beat together. Next, add the powdered sugar and mix well. Spread peanut butter mixture over cake batter and bake for 40 to 50 minutes. Make sure not to over-bake as the center should be a little gooey.
Serve with fresh whipped cream.