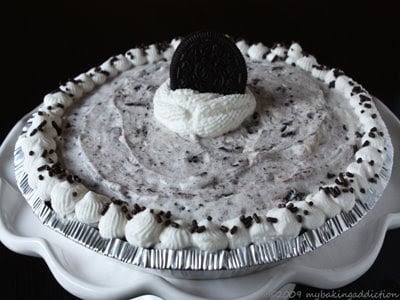 From the moment I saw this recipe on The Repressed Pastry Chef's blog, I knew I would be making it at some point in the very near future. Em posted this recipe for Pie (Pi) Day and it looked easy and delicious. When I was at the market last weekend, they had pie crusts on sale so I snagged an Oreo crust and a package of Oreo cookies. This recipe came together with ease and took no longer than ten minutes from start to finish. The outcome is a seriously amazingly fluffy texture packed with Oreo goodness. If you like Oreos and want to wow your family into thinking you are a culinary genius, take ten minutes and whip this up for dessert tonight!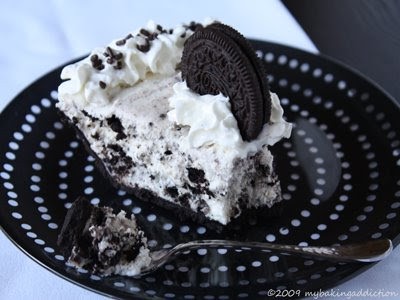 Here is Em's Version-Adapted from Kraft
Ingredients
1 Oreo Pie Crust
12 Oreo cookies
8oz Cream Cheese, softened
1/3 cup sugar
2 cups whipped cream

Directions
In a small bowl, smash up 12 of the Oreo cookies…Set aside. In a medium bowl using a hand mixer, combine the cream cheese and sugar…Beat until light and fluffy. Add in the whipped cream and the smashed up Oreo cookies…Then use a rubber spatula and combine gently until well blended and the cookies are distributed throughout. Spoon into the Oreo pie crust and refrigerate about 2 hours or until firm.

Optional garnish… Cut 4 Oreo cookies in half and place the halves, cut side down, around a dollop of whipped cream placed in the center and dusted with Oreo cookie crumbs.

Note: The 2 cups of whipped cream is not the same as whipping cream. For this recipe the cream should be whipped. Use either freshly whipped cream or Reddi–Wip or Cool Whip or similar… But the cream is to be whipped, not liquid.