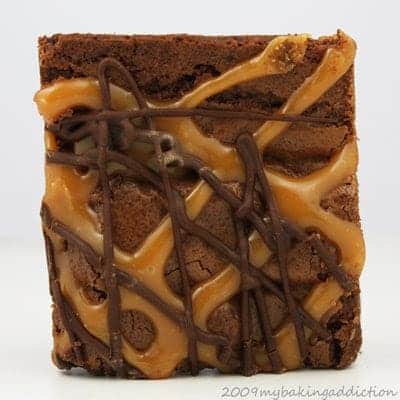 I remember seeing these brownies on The Repressed Pastry Chef's blog a few months ago, so when I had leftover caramels from the Caramel deLite bars, this was my go to recipe. In my opinion, brownies are such a crowd pleasing dessert, but are also very personal in regards to taste and texture. Some people like them thick and chewy, some thin and dense, while others prefer a cake like texture. I am a fan of the thick and chewy (fudgey)crowd. I even like to slightly under-bake brownies in an attempt to gain maximum chewy gooey goodness. Em topped these brownies with peanuts, but I have a nut hata in my home, so I left them off. Em's recipe makes a thick fudgey brownie packed with chocolate flavor…the caramel drizzle puts them over the top! I guarantee they will receive rave reviews…people proclaimed these to be "world famous" after tasting them. Now, I don't know if these will reach "world famous" status, but I do know that they are damn tasty!
You may notice that I now have page jumps in my new posts, which means ya have to click to continue reading the posts. I wanted to add this feature to my site because some posts get so damn long either due to my rambling or lengthy recipes. Either way, I could not figure it out…and was too busy to further my research. On Tuesday night I expressed this "want" to Em through email and within hours she researched my blog html coding (which is foreign to me) AND had everything set up and functioning. She also figured out how we can place printable recipes in out posts… sheer genius I tell ya! So, if you are a little confused about your site or maybe just lazy like me, contact Em through her site … I bet she can help! Thanks, Em!!!!!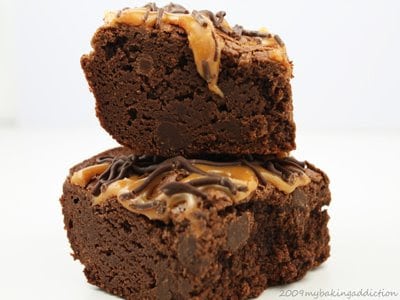 Over The Top Brownies
Ingredients
1 cup butter, melted
1 1/2 cups granulated sugar
1 1/2 cups brown sugar
1 tablespoon vanilla extract
4 eggs
1 1/2 cups flour
1 cup Hershey's Special Dark cocoa powder
1 teaspoon salt
1 cup semi-sweet chocolate (chunks, disks, chips or mini chips)
Topping
1/4 cup melted semi-sweet chocolate
18 Kraft Caramels
2 tablespoons heavy cream
chopped/crushed nuts (optional)
Directions
Preheat oven to 350 F
Prepare a 9×13 baking dish as follows: lightly spray the insides with cooking spray then with the dish horizontally in front of you lay in one sheet of aluminum foil across the length (left-to-right) leaving enough overhang on the sides so that you can use the excess foil as handles and on top of that lay in one sheet of aluminum foil across the width (top-to-bottom). Spray the foil with cooking spray. You want to be sure the insides of the pan are completely covered and you have foil "handles" which you'll use to lift the slab of brownies from the pan after baking :)
In a large bowl, combine the melted butter, both sugars and the vanilla extract in a large bowl. Beat in the eggs, one at a time, mixing well after each addition until the liquid mixture is completely blended.
In a separate bowl, sift the flour, cocoa powder, and salt. Gradually add this into the liquid mixture until it is fully incorporated. Add in the chocolate pieces (chunks, disks, chips or mini chips) and stir to combine. It will resemble fudge frosting at this point… and it will taste delicious!! Spread evenly into the prepared baking dish.
Bake about 40-45 minutes until a few moist crumbs cling to a toothpick inserted in the center. Don't bake to the point of the toothpick coming out clean or the brownies will be dry. Remove the baking dish from the oven and cool on wire rack for 10 minutes… then… using the foil handles remove the brownie slab from the dish and cool completely on wire rack.
Put the caramels in a microwave-safe bowl and add the heavy cream. Microwave in 30-second increments until the caramels begin to melt and stir to incorporate the cream. Do not over-cook this!
After the brownies have cooled a bit but are not yet at room temperature, pour the melted caramel/cream mixture over the top and let it set up for a little while. Then drizzle on the melted chocolate and top with crushed nuts.