I was wandering around our local farmer's market last week when I walked past a little stand called DebHouse. I was intrigued by her perfectly folded little bags full of baked goods, but unfortunately I was short on time, so I didn't stop.
Once I got home for the evening, I did a quick search for DebHouse and discovered that Deb is a local gal, retired from her global marketing career and is now a home baker. She sells her lovely baked goods online, at the Perrysburg Farmer's Market and a local grocery store. A portion of Deb's proceeds go directly to the Deborah House, a home where the shattered lives of young Romanian girls are being rebuilt through education, counseling, legal services and job training. Personally, I think it's amazing that Deb's passion for baking is making a direct impact on the lives of young women in need! People like Deb warm my heart and are truly an inspiration.
Deb has a delectable list of cookies available on her website, but her Buckeye Bars are what caught my eye. Being from Ohio, I have sampled many pieces of Buckeye Candy, but never thought of turning that peanut buttery goodness into a bar. I immediately did some internet searching and found an easy recipe for a layered Buckeye Bar that will definitely satisfy your sweet tooth. This recipe does utilize a boxed brownie mix, although I typically bake from scratch, I decided to try the recipe as written. If brownie mix is not your thing, simply sub in your favorite brownie recipe. These Buckeye Bars are simple, decadent and delicious…I am betting they're even better with a homemade brownie base. We thoroughly enjoyed these at room temperature, but I adored them cold out the fridge! Now I must head back to the farmer's market, meet Deb and try her version. Have a fabulous day and thanks so much for stopping by My Baking Addiction.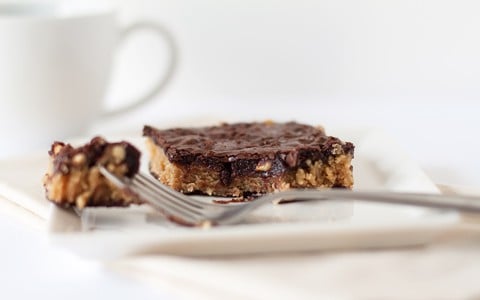 Peanut Butter Buckeye Bars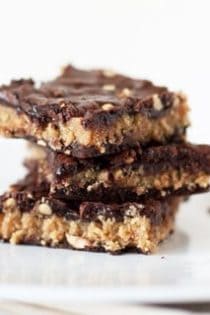 Ingredients:
1 19.5-ounce package brownie mix
2 eggs
1/3 cup vegetable or canola oil
1 tsp pure vanilla extract
3/4 cup chopped roasted peanuts (I used lightly salted)
1 14-oz. can sweetened condensed milk
1/2 cup creamy peanut butter
Directions:
1. Preheat oven to 350 degrees. Lightly grease a 13×9x2-inch baking pan and set aside.
2. In a large bowl, combine brownie mix, eggs, oil and vanilla. Beat until combined. Stir in peanuts. Remove half of the brownie mix and set aside.
3. Spread remaining brownie mix into prepared pan.
4. Whisk together sweetened condensed milk and peanut butter in a medium bowl until smooth. spread peanut butter mixture evenly over the brownie mixture in the pan. Separate the reserved brownie mixture into pieces. Flatten each piece with your fingers and place on top of peanut butter mixture.
5. Bake in preheated oven for 25 to 30 minutes or until top is set and edges are lightly browned. Cool completely in pan on a wire rack. Cut into bars, makes 32 pieces.
Follow Jamie on Instagram. We love to see what you're baking from MBA! Be sure to tag @jamiemba and use the hashtag #mbarecipes!
[pinit]