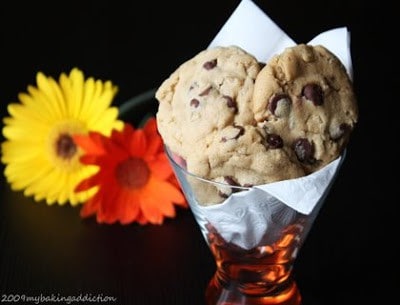 On Thursday evening the boyfriend requested a "sweet snack" for the Cavs game. Since it was getting late, he had two options; brownies or cookies. He opted for cookies, so I debated a few recipes then settled on one for Peanut Butter Chocolate Chip Cookies. I rolled up my sleeves and headed into the kitchen at 8:00 PM. This recipe is easy, so he did not catch too much flack for the late night request. After I combined my dry ingredients, I opened the refrigerator door to grab the butter and realized that I had not one stick of butter. I did have a total of 4 tablespoons in random chunks, but that was not close to the amount I needed. Which leads me to the question, how the hell can someone with a baking blog run out of butter? I will tell you how…it's because the boyfriend is always on my case about buying too much butter, sugar, flour, etc. So I have made an effort to streamline my stash in an attempt to clear out some space in the pantry and fridge. Apparently this attempt backfired and left me butterless. Luckily I had exactly the amount of butter flavored Crisco in my cupboard to complete to recipe. I finished measuring and mixing and used 1 TBS scoop to form the cookies. Well the finished products were comically shaped cookie balls. For the rest of the batches I flattened the top after scooping the dough onto my Silpat. This alleviated the cookie ball conundrum and the rest resulted in normal looking cookies…that were also quite tasty!
Peanut Butter Chocolate Chip Cookies
Yield: 30 cookies
Adapted from allrecipes
Ingredients
1/2 cup butter flavored shortening
1/2 cup white sugar
1/3 cup packed brown sugar
3/4 cup peanut butter (I used creamy, but chunky would be amazing!)
1/2 teaspoon vanilla extract
1 egg
1 cup all-purpose flour
1 teaspoon baking soda
1/4 teaspoon salt
1/2 cup rolled oats
1 cup semisweet chocolate chips
Method
1. Preheat oven to 350 degrees F (175 degrees C).
2. In a medium bowl, cream together the butter, white sugar and brown sugar until smooth. Stir in the peanut butter, vanilla and egg until well blended. Combine the flour, baking soda and salt; stir into the batter just until moistened. Mix in the oats and chocolate chips until evenly distributed. Drop by tablespoonfuls on to lightly greased cookie sheets.
3. Bake for 10 to 12 minutes in the preheated oven, until the edges start to brown. Cool on cookie sheets for about 5 minutes before transferring to wire racks to cool completely.
Note: The original recipe is linked above and does call for butter…I am sure these are equally as delicious if not more so with butta!