Last night, Brian called me at 8:30 as I was driving home from a long day of trying on jeans, buying lipgloss, and eating crab cakes – can you tell my summer is still lacking purpose?
He wanted to inform me that he was "thinking" about inviting a friend over to watch the Miami Heat game. Which translates to, "I've already asked someone to come over, so it's cool, right?"
He then hinted that he was hungry, so I offered to stop and buy brats, chips and beer. And being the ever so amazing woman that I am, I also decided to whip up a quick dessert for them to nosh on during their breaks from yelling at the refs and that one guy that used to play for the Cavs.
After a quick scan of my pantry, I quickly decided that Reese's Pieces Rice Krispie Treats were going to happen and happen they did. These certainly aren't anything fancy, but sometimes it's the simple recipes that bring the biggest smiles!
Creamy peanut butter, marshmallows, Rice Krispies, and Reese's Pieces – what more could hungry, basketball watching men want?
[pinit]

Reese's Pieces Rice Krispie Treats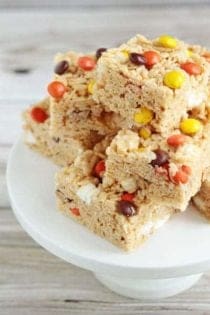 Ingredients:
3 tablespoons unsalted butter
5 3/4 cups miniature marshmallows; divided use
2/3 cup creamy peanut butter
1/2 teaspoon pure vanilla extract
6 cups crisped rice cereal (Kellogg's Rice Krispies)
1 cup Reese's Pieces
Directions:
1. Line a 9 x 13 x 2 inch baking pan with foil and spray with nonstick cooking spray.
2. In large saucepan melt butter over low heat. Add in 5 cups of marshmallows and stir until completely melted. Add in the peanut butter and continue stirring until the mixture is smooth. Remove from heat and stir in vanilla extract.
3. Add crisped rice cereal; stirring until well coated. Fold in the Reese's Pieces and remaining 3/4 cup marshmallows.
4. Using buttered spatula, press the mixture into the prepared pan. Cool. Cut into 2-inch squares.
Notes:
- Peanut Butter Rice Krispie Treats are best if served the same day they are made.
All images and text ©
Follow Jamie on Instagram. We love to see what you're baking from MBA! Be sure to tag @jamiemba and use the hashtag #mbarecipes!