Today's post is from the lovely Amber of the blog, Bluebonnets and Brownies. Amber and I developed a friendship through twitter over a year ago and finally met last October at BlogHer Food. She is one of the sweetest, wittiest and most genuine people I know, plus, she's got the hook up to some fabulous English candy! If you are not familiar with her blog, definitely head over and check out her delicious Tex-Mex cooking.
When Jamie asked me to guest post during her Peanut Butter week, I was beyond stoked. Peanut butter is pretty much my favorite food. It's definitely in the top five. When I lived in England, I used to import my favorite brand because the Brits, they just don't seem to get peanut butter. There aren't even any peanut butter and chocolate candy bars there. Isn't that just sad?
About a month ago, the hubs and I stopped off at a CVS to pick up some headache medicine. As we were waiting to check out, my eye spied the most wondrous of things in their featured display: Peanut Butter Snickers. I immediately grabbed one and began the negotiations of why this little morsel of delight MUST come home with us. Luckily, CVS happened to have Milky Way Dark too, or that baby never would have made it to the car with me. Let's just say negotiations for candy bars go better with my husband when I'm not asking him to share a peanut butter one with me. (I know, I know – how did we even end up married?!)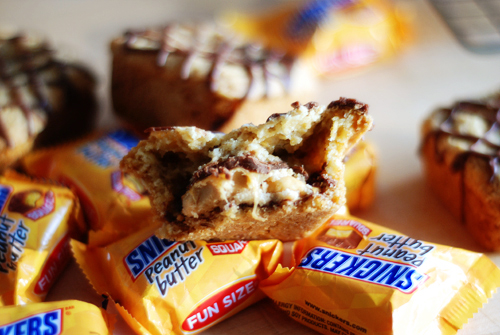 One bite of the little peanut buttery, caramel, chocolate, more peanut and nougat wondrous-ness, and my mind darted into all its recipe development recesses. WHAT could I do with this? Its perfection deserved much more than just me hoovering it into my mouth at top speed directly from the wrapper.
Inspiration came the next day from two things. I opened my cupboard and was reminded of my mini-square cake and muffin pan, which I had yet to use, and I visited my dear friend Annie's food blog, With Sprinkles On Top. Annie had just posted a recipe for thin and crispy oatmeal cookies. Now you're talking! What's better than a Peanut Butter Snickers? A Peanut Butter Snickers enveloped in crispy oatmeal cookie dough, that's what.
Thus, the Peanut Butter Snickeroo was born. Why? Because I always say "Snickers?! Ooooh!" (Yeah. I'm a dork. At least I own it.)
I was super glad for the square pan, because it mimics the square shape of the Peanut Butter Snickers perfectly. But you don't have to buy a special pan. Just use a muffin pan instead, and you'll have round treats instead of square ones.
These babies are great for a solid 5 days after baking if kept in an airtight container. My husband's coworker Steve would like me to pass on that he recommends nuking your cookie for 30 seconds before enjoying. Apparently, Steve ate about 6 of these the day my husband took them to the office. I'll let Steve's wife worry about his cholesterol, at least they weren't in my house tempting me any longer. Because, if I'm honest, I have zero self control. Especially where peanut butter is concerned.


Peanut Butter Snickeroos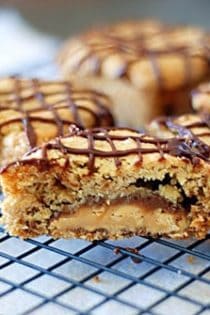 Ingredients:
For the cookies
1 bag of Snickers Peanut Butter "Fun Size", Frozen
1 c. all purpose flour
1 tsp baking powder
1/2 tsp baking soda
1/2 tsp salt
2 sticks of butter, softened
1 cup granulated sugar
1/4 c. packed brown sugar
1 large egg
1 tbsp. vanilla extract
2 1/2 c. old fashioned rolled oats
For the Chocolate Decorating Icing
1/2 c semi-sweet or milk chocolate chips, melted
2 tbsp powdered sugar
Directions:
For the cookies
1. Freeze Snickers Peanut Butter Fun Size for at least 2 hours before preparations begin. Preheat the oven to 350F. Spray baking tray with cooking spray for baking, or butter and flour.
2. In a medium sized bowl, whisk together flour, baking powder and soda, and salt.
3. In a large mixing bowl, beat together the softened butter and both sugars until light and fluffy, scraping the sides often. Add the egg and vanilla and beat again until fully incorporated, again scraping the sides.
4. Add the flour mixture a little at a time, mixing on slow speed after each addition. When fully combined, begin to add the oats, mixing again. Stir the dough by hand once more, scraping the sides and bottom of the bowl to make sure there aren't any pockets of flour or oats that aren't mixed in.
5. Remove Snickers from freezer and unwrap 12 pieces. Using an ice cream scoop, scoop out a ball of dough and place it into the palm of your clean and dry hand. Flatten the dough a bit between your two palms, and then place the a frozen Snickers in the middle of the dough.
6. Using your hands, force the dough to mold around the candy piece until it is completely covered in the dough, with no holes or cracks. You should not be able to see the chocolate of the Snickers at all. Place the now square-shaped dough ball into one of the cups in your pan. Repeat until you have used all the dough.
7. I yielded 12 with a little left over dough that I turned into about 3 plain oatmeal cookies, but if you have more Snickers, feel free to make more than 12.
8. Bake until the cookies are a deep golden brown, between 14 and 17 minutes. Rotate the baking sheet halfway through the cooking time to get optimal browning. Allow to cool in pan for 10 minutes, then move to a wire cooling rack. When entirely cool, decorate with chocolate icing.
For the Chocolate Decorating Icing
1. Melt the chocolate chips in the microwave, 30 seconds at a time. Stop and stir after each 30 seconds until completely melted. Add the powdered sugar and stir until completely dissolved. This should thicken the chocolate considerably.
2. Spoon melted chocolate into a medium sized ziploc bag. Press out the air and seal tightly, twisting the bag so that all the chocolate moves into the corner of the bag. Alternatively, use a disposable piping bag. Cut a very tiny corner off the ziploc or piping bag, and then decorate the Snickerdoos to your desire, with stripes, cross hatching, zigzags, or dots.
All images and text ©
Follow Jamie on Instagram. We love to see what you're baking from MBA! Be sure to tag @jamiemba and use the hashtag #mbarecipes!