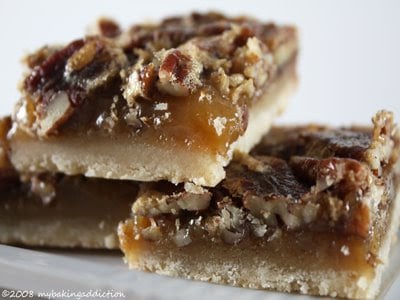 As mentioned in a previous post, I received walnuts, pecans, and dried cranberries from Oh Nuts last week. The pecans I got were amazing, so I wanted to bake something that truly highlighted their flavor and texture. I have never made pecan pie, so that was my first thought, but I ended up choosing a recipe for pecan bars. I came across this recipe on a foodie message board. The gal that posted the recipe said these bars were "much requested" and that "people die over them" so I had to give em a whirl. The recipe was super easy, the crust came together in a snap using my food processor and the filling was even more simplistic (I love simple)! I snuck a taste of the filling before I poured it onto the crust and for a moment, I felt compelled to lick the bowl. Seriously, these bars are amazing, if you like pecans, make this recipe!

Pecan Bar Recipe
Ingredients
2 cups all-purpose flour
1/3 cup white sugar
1/4 teaspoon salt
2/3 cup butter

3 eggs
1 cup light corn syrup
3/4 cup brown sugar
1/4 cup white sugar
2 tablespoons butter, melted
1 teaspoon vanilla extract
2 cups whole pecans, toasted & tossed with 1 tbsp butter

Directions
1. Preheat oven to 350 degrees F (175 degrees C). Line a 9×13 pan with foil, grease.
2. In a large bowl, stir together the flour, 1/3 cup sugar, and salt. Cut in 2/3 cup of butter until mixture resembles coarse crumbs. Sprinkle the mixture evenly over the prepared pan, and press in firmly.
3. Bake for 20 minutes in the preheated oven.
4. While the crust is baking, prepare the filling. In a large bowl mix together the eggs, corn syrup, 1 cup total brown & white sugars, 2 tablespoons melted butter, and vanilla until smooth. Stir in the pecans. Spread the filling evenly over the crust as soon as it comes out of the oven.
5. Bake for 25 minutes in the preheated oven, or until set. Allow to cool completely on a wire rack before slicing into bars.

*Note– After these cooled on a rack for about 3 hours, I put them in the freezer for 30 minutes. This made the cutting process super easy.