The Perfect Party Cake
One of my great friends celebrated her birthday this past Saturday and I thought this would be the perfect opportunity for me to tackle my fear of cakes. I have no idea why cakes intimidate me so much, but they do…big time! I keep meaning to take the Wilton cake decorating classes at Michael's, but I just get too busy. It took me a little while to decide which cake recipe to follow because I have been wanting to try so many. In the end, I went with Dorie Greenspan's recipe for the Perfect Party Cake…I have used this recipe numerous times, but only in cupcake form. The reason I love this recipe so much is because of the crumb texture…it's perfect in my opinion. This time I followed Greenspan's directions exactly as written, which I admit intimidated me a little at first. The cake directions are long, but that is just because Greenspan is very detailed in her steps. The lengthy directions are not an indication of the difficulty level; in fact, I think this cake is quite easy to prepare…it's the slicing, filling, frosting and decorating that scares me! In all honesty, the slicing, filling, frosting and decorating was not too hard either. Obviously this cake is not perfection, but I do not think it's too bad for my first cake decorating attempt. This was a big hit at work and people seemed to really enjoy the flavor and texture. So, if you have a special occasion coming up and need the Perfect Party Cake, try this one…it's sure to please! Click here for the recipe and another version of this delicious cake. Enjoy!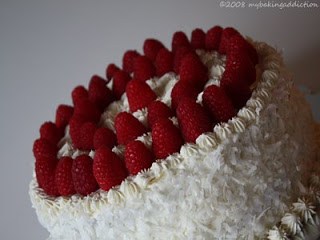 This post may contain affiliate links. We are a participant in the Amazon Services LLC Associates Program, an affiliate advertising program designed to provide a means for us to earn fees by linking to Amazon.com and affiliated sites.