Pina Colada Cupcakes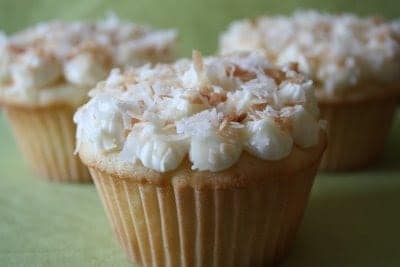 I have been obsessed with frozen pina coladas in recent months, which in turn, has led me on the search for other coconutty deliciousness. I was searching the Food Network website and found an Ina Garten recipe that I played around with to make the best cupcake I have ever tasted!
Yes, people, I said the BEST! These cupcakes are amazing! Send your hubby, boyfriend, child, wife, partner or whoever to the store and make these babies tonight!
Here are my changes:
subbed 3 1/4 cup plus 2 TBS of cake flour for the AP flour
subbed 2 teaspoons coconut extract for the 1 1/2 teaspoons of almond extract in the batter
subbed 1/2 teaspoon of coconut extract for the 1/2 teaspoon of almond extract in the frosting
added an additional 2 cups of powdered sugar to the frosting, I did this because the frosting was too thin and I wanted to pipe it on the cupcakes using the Wilton #32 Star Tip.
I toasted the coconut in a 330°F oven; watching constantly and stirring often.


Hit up The Food Network site for the recipe …AND then go make it!

Oh, the website says that this recipe is only available for a limited time, so make sure you print this one out. Trust me, you'll want this in the future!

Enjoy!

[pinit]

This post may contain affiliate links. We are a participant in the Amazon Services LLC Associates Program, an affiliate advertising program designed to provide a means for us to earn fees by linking to Amazon.com and affiliated sites.