As you may have guessed from the gazillion and one references . . . I LOVE autumn and pumpkin! There's something warm and fuzzy about the aromas, scenery, and most of all, the desserts! If you are looking for the warm and fuzzies, this Pumpkin Cake recipe should definitely get moved to your must make list.
One of my favorite desserts as a child was my nana's pumpkin roll. The moist cake-like texture of the pumpkin goodness rolled up with a luscious cream cheese filling seemed to envelop our taste buds as we anxiously took that first bite. No worries, I'll be posting this delectable creation in the coming weeks.
Although the taste is well worth the time needed to make nana's pumpkin rolls, I thought I would try a dessert that mimics the flavors and textures of her pumpkin roll recipe without the time consuming preparation that it required. That's when I decided to tinker with a recipe for Pumpkin Cake with a Cream Cheese Swirl.
This recipe produced a light, moist cake with the rich flavors of pumpkin, nutmeg, and cinnamon. An amazing cream cheese swirl is baked in to impart a sweet and tangy flavor that is simply a magical addition to the simple pumpkin cake.
The final product was a super moist dessert, so moist in fact, my friend Brittani's 16 year-old son stated, "These couldn't be any more moist." Quite the terminology, Derek, I'm impressed with the description! Too bad he only noshed on these until he realized they contained pumpkin, after that, they were a no go!
All in all, these were a simple dessert that tasted as if I spent all afternoon duplicating nana's delicious pumpkin roll. Shhhhhh, it will be our secret!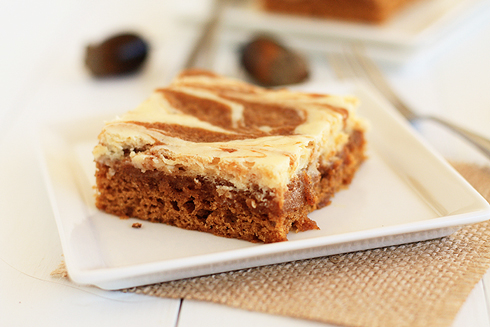 Pumpkin Cake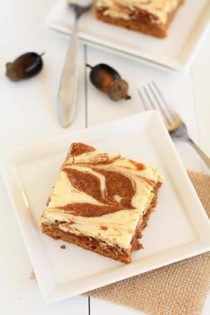 Ingredients:
6 tablespoons butter, melted and cooled
1 3/4 cups sugar; divided use
3 large eggs; divided use
1 1/2 teaspoon pure vanilla extract; divided use
1 cup canned pure pumpkin
1/3 cup water
1 3/4 cups all-purpose flour
1 tablespoon pumpkin pie spice*
1 teaspoon baking soda
1/2 teaspoon baking powder
1/2 kosher salt
1 package (8 oz.) cream cheese, at room temperature
Directions:
1. Preheat oven to 350°. Line a 9 x 13 inch baking pan with non-stick foil or parchment paper and spray with non-stick cooking spray.
2. In a bowl, with an electric mixer on medium speed, beat butter and 1 1/2 cups sugar until smooth. Beat in 2 eggs, pumpkin, 1 teaspoon of vanilla and 1/3 cup water until well blended, scraping down sides of bowl as needed.
3. In another bowl, mix flour, pumpkin pie spice, baking soda, baking powder, and salt; add the dry ingredients into the butter mixture until and combine until well blended. Spread batter evenly into the prepared pan
4. In a bowl, with an electric mixer on medium speed, beat cream cheese, remaining egg, remaining 1/4 cup sugar, and remaining ½ teaspoon of vanilla until smooth.
5. Drop cream cheese mixture in evenly spaced portions over the pumpkin batter. Pull a knife tip through filling to swirl slightly into batter.
6. Bake in a 350° oven until center of the pumpkin batter (not cream cheese mixture) springs back when touched, about 30 minutes. Let cool completely in pan, then cut into 24 bars.
Notes:
- If you can't find pumpkin pie spice, substitute 1 1/2 teaspoons cinnamon, 3/4 teaspoon ginger, 1/2 teaspoon nutmeg, and 1/2 teaspoon each allspice and cloves (all ground).
- For a thinner cake, use a 10 x 15 inch pan, and bake for approximately 22-25 minutes or until the center of pumpkin batter (not cream cheese mixture) springs back when touched.
- Store these Pumpkin-Cream Cheese Bars in an airtight container in the refrigerator for up to 3 days. Bring to room temperature 30 minutes before serving.
Recipe adapted from the November 2003 issue of Sunset Magazine via myrecipes.com.
All images and text ©
Follow Jamie on Instagram. We love to see what you're baking from MBA! Be sure to tag @jamiemba and use the hashtag #mbarecipes!