It has finally gotten brisk here in Northwest Ohio and fall weather makes me become obsessed with all things pumpkin, so here is yet another drool-worthy pumpkin recipe. I promise my next recipe will lack pumpkin and I will move onto my other fall addiction – apples.
I am going to forewarn you that this recipe makes a lot of dough, but I wanted large cookies so I was okay with the massive vat of dough that made my KitchenAid struggle. This recipe makes very soft cake-like cookies and they are topped with a deliciously sweet caramel icing. These were taken to the boyfriend's place of work where they were thoroughly enjoyed.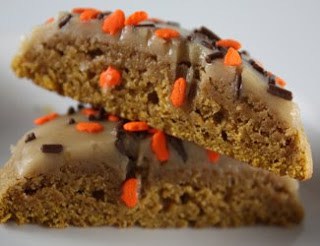 In fact, my plastic container was returned with a handwritten note from one of his co-workers that said, "More cookies please."
If you love pumpkin, give these a try!

Pumpkin Cookies with Caramel Icing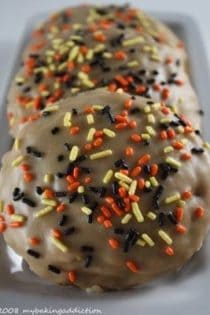 Ingredients:
For the Cookies
1 cup butter flavored shortening
1 cup unsalted butter; softened
2 cups white sugar
2 cups canned pumpkin (solid; not pie mix)
2 eggs
2 teaspoons baking soda
3 teaspoons ground cinnamon
2 teaspoons pumpkin pie spice
1/2 teaspoon nutmeg
1 teaspoon salt
4 cups all-purpose flour
For the Caramel Icing
6 tablespoons butter
8 tablespoons milk
1 cup packed brown sugar
2 cups confectioners' sugar
1 1/2 teaspoons vanilla extract
Directions:
For the Cookies
1. Cream shortening, butter, white sugar and pumpkin. Add eggs and mix well.
2. Sift together the baking soda, ground cinnamon, pumpkin pie spice, nutmeg, salt and flour.
3. Add to pumpkin mixture and mix well.
4. Drop from spoon to cookie sheet.
5. Bake 13-15 minutes at 350°F (175°C).
For the Caramel Icing
1. Cook butter, milk, and brown sugar until dissolved.
2. Cool and add confectioners' sugar and vanilla.
3. Spread over warm cookies.
Notes:
- I wanted big cookies, so I measured each cookie out to 1/4 cup, I shaped the cookies into circular blobs and smoothed the tops with dampened finger tips.
- Cool the cookies completely (if they are even the slightest bit warm, the will crumble when inverted into the icing) and dip into the prepared icing, this allowed a very even distribution of icing, resulting in a smooth finish.
- While the icing is wet, add some fall inspired sprinkles.
- adapted from AllRecipes
All images and text ©
Follow Jamie on Instagram. We love to see what you're baking from MBA! Be sure to tag @jamiemba and use the hashtag #mbarecipes!