Wow, it's December already! The last week in November got away from me… looking back, it was a week of cooking, cleaning, cooking, shopping, cooking, eating. Now that my kitchen is no longer a whirlwind and my pants will button again, I can get back to baking and blogging.
I made this recipe for a function at work; the cake recipe came as a recommendation from one of my twitter followers. If I could locate the tweet, I would give them a little shout out, but unfortunately I deleted it by accident! Thanks for the recipe, Katie!
These pumpkin cupcakes are truly delightful…they are light, flavorful and super moist. The cinnamon cream cheese frosting made them even more amazing because the flavor combination was truly harmonious. If you have any leftover pumpkin from your holiday feast, definitely give these a whirl. I guarantee you will love 'em! Just be warned, these were a contributing factor of all my pants fitting a tad too snug. Well, that and all the damn stuffing I shoved down my face!
Have a fabulous day! Thanks so much for stopping by!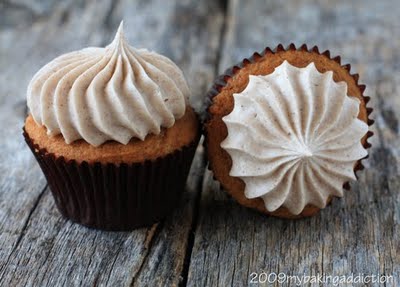 Pumpkin Cupcakes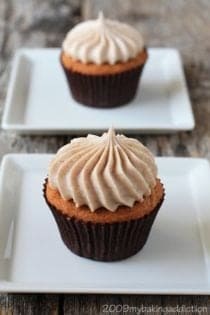 Ingredients:
For the Pumpkin Cake
2 cups all-purpose flour
1 teaspoon baking soda
1 teaspoon baking powder
1 teaspoon coarse salt
1 ½ teaspoons ground cinnamon
1 teaspoon ground ginger
1/4 teaspoon freshly grated nutmeg
1 teaspoon pumpkin pie spice
1 cup packed light-brown sugar
1 cup granulated sugar
1 cup (2 sticks) unsalted butter, melted and cooled
4 large eggs, lightly beaten
1 can (15 ounces) pumpkin puree
For the Cinnamon Cream Cheese Frosting
2 (8) ounce package cream cheese, softened
1 stick butter, softened
2 lbs. confectioners' sugar
1 TBS ground cinnamon
2 teaspoons vanilla extract
Directions:
For the Pumpkin Cake
1. Preheat oven to 350 degrees. Line cupcake pans with paper liners; set aside. In a medium bowl, whisk together flour, baking soda, baking powder, salt, cinnamon, ginger, nutmeg, and pumpkin pie spice; set aside.
2. In a large bowl, whisk together, brown sugar, granulated sugar, butter, and eggs. Add dry ingredients, and whisk until smooth. Whisk in pumpkin puree.
3. Divide batter evenly among liners, filling each about halfway. Bake until tops spring back when touched, and a cake tester inserted in the center comes out clean, 20 to 25 minutes, rotating pans once if needed. Transfer to a wire rack; let cool completely.
For the Cinnamon Cream Cheese Frosting
1. Using a mixer, blend the butter and cream cheese together until well combined.
2. Gradually add in the confectioners' sugar until fully incorporated.
3. Finally mix in vanilla and cinnamon.
- adapted from Martha Stewart
All images and text ©
Follow Jamie on Instagram. We love to see what you're baking from MBA! Be sure to tag @jamiemba and use the hashtag #mbarecipes!
[pinit]