We typically don't plan elaborate summer parties—we prefer impromptu get-togethers with friends. Although I love to be in the kitchen, it's not the most social place to be when your guests are hanging out on the deck. Plus, this girl doesn't really relish the flushed sunburn glow that comes from kitchen heat in the summer, if you get me.
When it comes to these get-togethers, I like to leave the main courses to the men and the grill. But I love to make easy, fresh side dish recipes that don't require the use of an oven (or any other heat source, for that matter!).
When faced with last minute entertaining, I always take a simple approach to food—dips, salads and no-bake desserts full of fresh summer produce.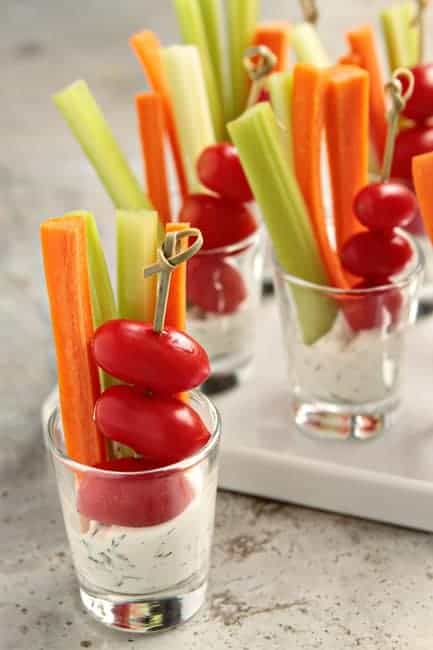 My go-to appetizer is homemade dill dip served with carrot and celery sticks and cherry tomatoes. Serving them up in individual shot glasses offers a little visual interest, and its grab-and-go portability makes them perfect for mingling.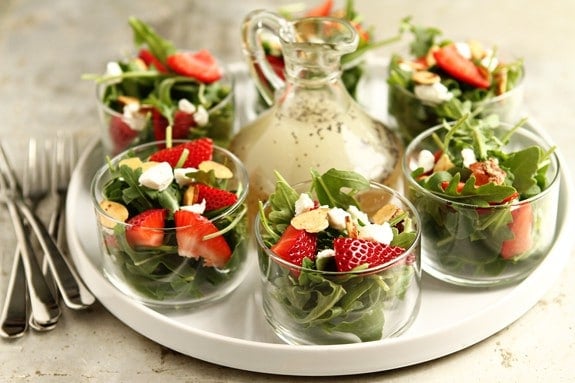 When it's hot outside, there's nothing better than a crisp, cool salad. One of my favorites is an arugula salad with strawberries, goat cheese and almonds topped with a homemade poppyseed dressing. The beauty of this salad is that you can make it your own by interchanging the salad toppings. We also love this with spinach, feta and candied pecans—just use what you have on hand; I promise it'll be amazing.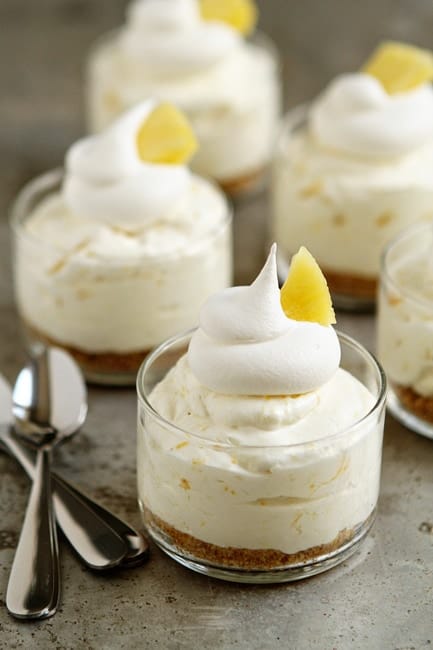 Finally, no party in this household is is complete without dessert. Last week, I had pineapple on hand, and I decided it would be absolutely divine folded into a simple no-bake bake dessert. A crunchy graham crust is layered with a cloud-like, pineapple-infused sweet cream cheese filling and finished with a dollop of fluffy whipped topping to create a five-star dessert in less than 10 minutes!

Summer Entertaining Recipes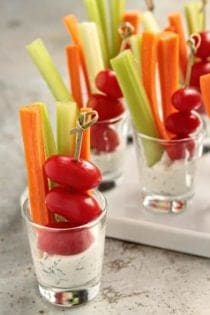 Ingredients:
Fresh Dill Dip
1 cup reduced fat sour cream
1/2 cup reduced fat mayonnaise
2 tablespoons finely chopped Vidalia onion
2 tablespoons finely chopped fresh Italian parsley
1 tablespoon finely chopped dill weed
1 teaspoon seasoned salt
freshly ground pepper to taste
Strawberry Salad with Poppy Seed Dressing
For the Dressing
1/2 cup granulated sugar
1 tablespoon poppy seeds
2 teaspoons finely grated Vidalia onion
1/4 cup white wine vinegar
1/4 cup apple cider vinegar
1/2 cup vegetable oil
For the Salad
5 ounces (about 4 cups) baby arugula
1 cup sliced strawberries
1/3 cup crumbled goat cheese
1/4 cup sliced almonds
No-Bake Pineapple Cheesecake
For the Crust:
3/4 cup graham cracker crumbs
1 tablespoon granulated sugar
2 tablespoons unsalted butter, melted
For the Filling
1 (8 ounce) package cream cheese, softened
3 tablespoons granulated sugar (see note below)
12 ounces canned pineapple, pureed
1/2 teaspoon pure vanilla extract
1 (8 ounce) tub frozen whipped topping, thawed
For the Garnish
whipped topping, optional
fresh pineapple, optional
Directions:
For the Fresh Dill Dip
Combine all ingredients in a medium bowl.
Season to taste with salt and pepper.
Refrigerate until well chilled.
For the Strawberry Salad with Poppy Seed Dressing
In a medium bowl, whisk together the sugar, poppy seeds, onion, vinegars and oil. Cover and refrigerate until ready to use.
In a medium bowl, combine arugula, strawberries, goat cheese and almonds. Toss with desired amount of dressing to coat and serve immediately.
For the No-Bake Pineapple Cheesecake
In a medium bowl, stir together the graham cracker crumbs, sugar and melted butter. Evenly divide the crumbs between your individual serving dishes and press into the bottoms of the dishes to form a crust layer.
In a large bowl, with an electric mixer, beat the cream cheese and sugar on medium-high speed until smooth and creamy, about 3 minutes. Add in pineapple and vanilla and mix to combine, scraping down the sides of the bowl as needed. Using a rubber spatula, fold in the whipped topping until well combined.
Evenly pipe or spoon the filling into prepared individual serving dishes. Cover with plastic wrap and refrigerate for at least 3 hours before serving.
If desired, garnish with additional whipped topping and fresh pineapple.
Notes:
Fresh Dill Dip Notes:
Serve with a variety of fresh vegetables or pumpernickel bread.
No-Bake Pineapple Cheesecake Notes:
I have not tried this recipe using fresh whipped cream, so I cannot attest to the results.
The amount of sugar you need will depend on the sweetness of your pineapple. I recommend tasting and adjusting the level of sweetness before filling your serving dishes.
This recipe was modified on 5/15/16 to included only canned pineapple.
All images and text ©
Follow Jamie on Instagram. We love to see what you're baking from MBA! Be sure to tag @jamiemba and use the hashtag #mbarecipes!
This post is part of the BlogHer Summer Entertaining series, which includes 100 percent editorial content presented by a participating sponsor. Our advertisers do not produce editorial content. This post is made possible by Home Depot and BlogHer.
What are your favorite easy, no-cook side dishes for parties at your house? Share your ideas in the comments below.